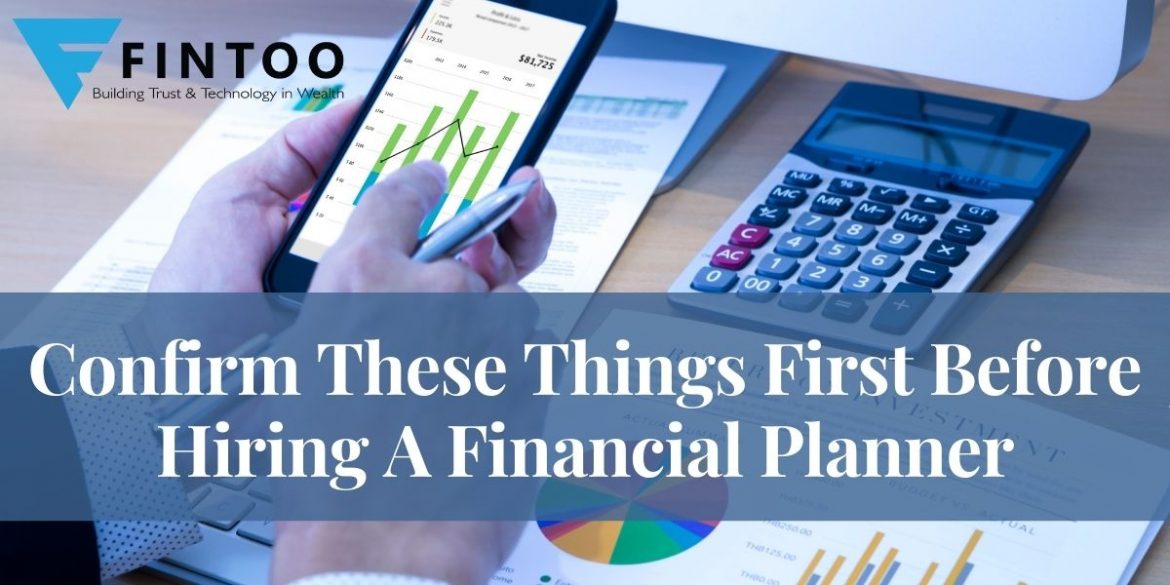 Our finance is as precious to us as our children and health and maybe that is why we wish to confer the same in reliable hands. In many cases, people like to take the final call regarding financial matters by themselves. Otherwise, a financial planner can serve him by ensuring the best possible utilisation of the hard-earned money. The crucial process of financial planning can take you a step closer to your ultimate goals on being done properly. However, this needs time, patience, and the backing of a well-braced expert.
Given the opportunity and responsibility of examining a financial planner, you need to ask him some basic questions. These in turn will guarantee you the fact that he is the right person to handle your finances.
Understanding Of Your Financial Profile
Correct financial profiling of your investment is required for gaining clear knowledge on your risk appetite, investment capacity as well as liabilities. Your financial planner needs to be proficient in the same for determining the investment assets which can serve you best. He needs to be able to customize your plan according to your requirement. Thus, it is necessary to educate him about your ultimate financial goals and the investment tenure you can sustain. Once you are done discussing the same, he can devise an investment plan for you to follow by considering your risk appetite and investment capacity.
Frequency Of Levying Service Fee
Your financial planner can either charge you an upfront fee or a percentage of your investment for managing the same. In many cases, the planners are paid a commission by various financial houses for advocating the supremacy of their products ahead of the general public. Such a scenario might lead to a conflict of interest as the financial planner might not always suggest the products which shall serve you best. Although it is common to enquire about the levy of the service fees, many people find it impolite to discuss the same. But then again don't we all ask the car mechanic about the probable cost of car servicing before getting the same done? This is also the same and can actually safeguard your financial standing to a great extent. If the explanation given by your financial planner seems a bit oblivious, you can seek out a written statement.
Frequency Of Reviewing Asset Allocation And Customer Portfolio
Every portfolio needs to be reviewed on a timely basis for gauging alterations in goals, investment capacity as well as the risk appetite of the investor. Important events of our life like childbirth, marriage and retirement make it imperative to revisit the portfolio and adjust it accordingly. Various chores might make it difficult for you to keep a tab on the same at all times. This is where a financial advisor comes in to guide you towards your ultimate goal. You should also discuss asset allocation with your financial planner for securing your money against uncovered risks and optimising your returns.
Propensity Of Associated Risks
A certain degree of risk is present in every single investment. This can arise due to market movements, policy changes, geopolitics, currency fluctuations and a lot more factors. Some amount of speculation is involved in all investments which can lead to a diverse set of results. But in most cases, a positive relationship has been seen amongst the degree of risk and return. Aggressive wealth growth might not cater to the investment horizon of elderly people. Hence it becomes necessary to discuss your risk profile with the financial advisor before he recommends a particular asset class to you.
Before deciding on a particular asset, you need to read the policy documents with caution. It is essential to gain a clear understanding of the terms and conditions for avoiding costly future penalties. All investments do not share the same degree of liquidity and most come with exit loads, lock-in periods, withdrawal limits, etc. You need to discuss all of this with your financial planner for placing a safe bet at all times.
If your financial planner is dealing with the portfolio of corporates or high net worth individuals, he might not always provide you with financial advice which can be in your best interest. Hence it is necessary to examine the financial strata of the customers catered to by your financial advisor. This can guarantee that you get the right type of guidance which you had been seeking out till now.
Services Provided & Sample Investment Plan
Certain planners offer only investment advice and wealth management service. But it pays more to seek out the assistance of an adviser who can cater to your diverse set of needs in the form of a comprehensive package. This needs to include insurance, goal-linked investments, taxation, budgeting and even estate planning. It is best to seek out a reference financial plan which is similar to your financial position and life stage. You can go through the same and understand its detailed aspects for benefiting the most out of it.
Means Of Communication And Clarification
The financial adviser should not use technical jargon for clarifying problem areas. He might not be the best choice for you if he tends to get impatient or irritated while explaining the same. For this, you need to be well aware of the communication medium whether directly with your financial planner or his team. It can either be via email or telephone as well as personal meetings in case of a critical discussion.
Return Calculation Techniques
The returns promised by your adviser need to take into account taxes, inflation and other fees. It might simply derail you from your ultimate financial goals otherwise. Hence it is advisable to discuss the return computation technique with your planner before opting for his prescribed investment schemes.
References To Solidify The Case
A financial planner who readily provides reference doesn't having anything to hide. You can have a small chat with his other clients and enquire whether they are contented with his services. In this way, you can be guaranteed about whether his approach shall be in sync with your requirements.
Conclusion :
It becomes imperative to conduct a thorough background check of the financial planner before entrusting him with money matters. He needs to have adequate insight for saving your tax and building your wealth to align you with your ultimate financial objectives. People often tend to shrug this responsibility on meeting a financial planner for the first time. They are simply afraid of asking something which might make them sound dumb. But in reality, the actual dumbness lies in not asking anything at all.
A financial planning platform where you can plan all your goals, cash flows, expenses management, etc., which provides you advisory on the go. Unbiased and with uttermost data security, create your Financial Planning without any cost on: http://bit.ly/Robo-Fintoo
To Invest and keep regular track of your portfolio download: Fintoo App Android http://bit.ly/2TPeIgX / Fintoo App iOS http://apple.co/2Nt75LP'
Disclaimer: The views shared in blogs are based on personal opinion and does not endorse the company's views. Investment is a subject matter of solicitation and one should consult a Financial Adviser before making any investment using the app. Making an investment using the app is the sole decision of the investor and the company or any of its communication cannot be held responsible for it.
Related Posts
Stay up-to-date with the latest information.