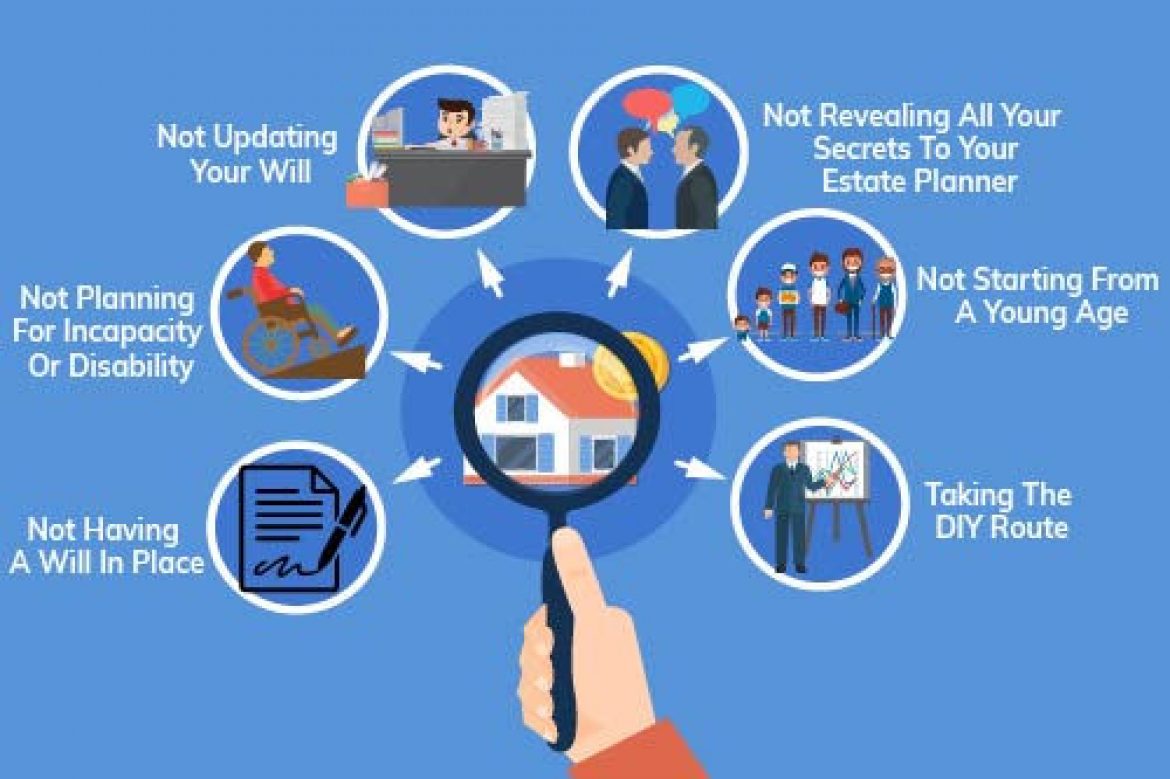 Estate planning involves preparing for accumulation, maintenance and distribution of an estate in an efficient manner which shall be in sync with your end goals. Contrary to popular belief, people belonging to all the rungs of society have the right to plan their estate for maximizing its value and passing it over to their heirs in a hassle-free manner. Today we are going to take a look at 6 common estate planning mistakes which are often committed along with means of avoiding the same.
Not Having A Will In Place – Individuals who die intestate might actually leave their heirs in a deep soup as the state and local laws get to take the ultimate call in regards to its management and inheritance in such a scenario. Estate planning in India is thus an absolute must if you do not want your next generation to spend a fortune and their valuable time in proving their relationship with you or while setting up trusts or guardianship's to take care of disabled beneficiaries or minors.
Not Planning For Incapacity Or Disability – Apart from having a valid will in place, it is equally important to appoint agents who are going to take care of your finances, make healthcare decisions or even raise your children if you ever succumb to any unexpected or long term disability. You can seek out the assistance of estate planning companies to create a living trust which can operate on your behalf in such circumstances.
Not Updating Your Will – Changes in family structure or law can invalidate prior planning. Be it new property acquisitions or deaths, births, and divorces, it is mandatory to update your will accordingly for ensuring that the assets which are left behind by you are passed on or used according to your intention. Estate planning services can take care of all these nitty gritties to leave you with greater time for indulging in your hobbies.
Not Revealing All Your Secrets To Your Estate Planner – Estate tax advisors are often kept in the dark by people who just share vague details which can ultimately lead to major problems. It is thus advisable to share all the details with the professionals as they can assist you in avoiding future family conflict, minimize taxes and even increase the value of your estate. All these things are simply not possible if your planner is not presented with accurate financial information or a holistic picture of your family dynamics.
Not Starting From A Young Age – When it comes to estate tax planning, you can never be too young to start with it. Given the fact that life is uncertain, we might never know when we might breathe our last or lose all capacities to live a normal livelihood. This is why you need to start early and designate a Power of Attorney who will take care of your belongings on your behalf.
Taking The DIY Route – People often make the mistake of believing that they can seek help from self-help websites to accomplish the planning part in regards to their estate just to save the estate planning costs which might arise while working with professionals. They are often confused regarding the authenticity of a handwritten or printed estate planning document and how to execute the same correctly. It is thus imperative to seek out expert help as an improperly performed execution can actually invalidate the entire instrument.
The ultimate key to avoiding costly estate planning mistakes is to spend adequate time as well as resources for ensuring the protection of your family on the event of death or incapacity to keep them abreast of costly litigation battles.
A financial planning platform where you can plan all your goals, cash flows, expenses management, etc., which provides you advisory on the go. Unbiased and with uttermost data security, create your Financial Planning without any cost on: http://bit.ly/Robo-Fintoo
Disclaimer: The views shared in blogs are based on personal opinion and does not endorse the company's views. Investment is a subject matter of solicitation and one should consult a Financial Adviser before making any investment using the app. Making an investment using the app is the sole decision of the investor and the company or any of its communication cannot be held responsible for it.
Related Posts
Stay up-to-date with the latest information.