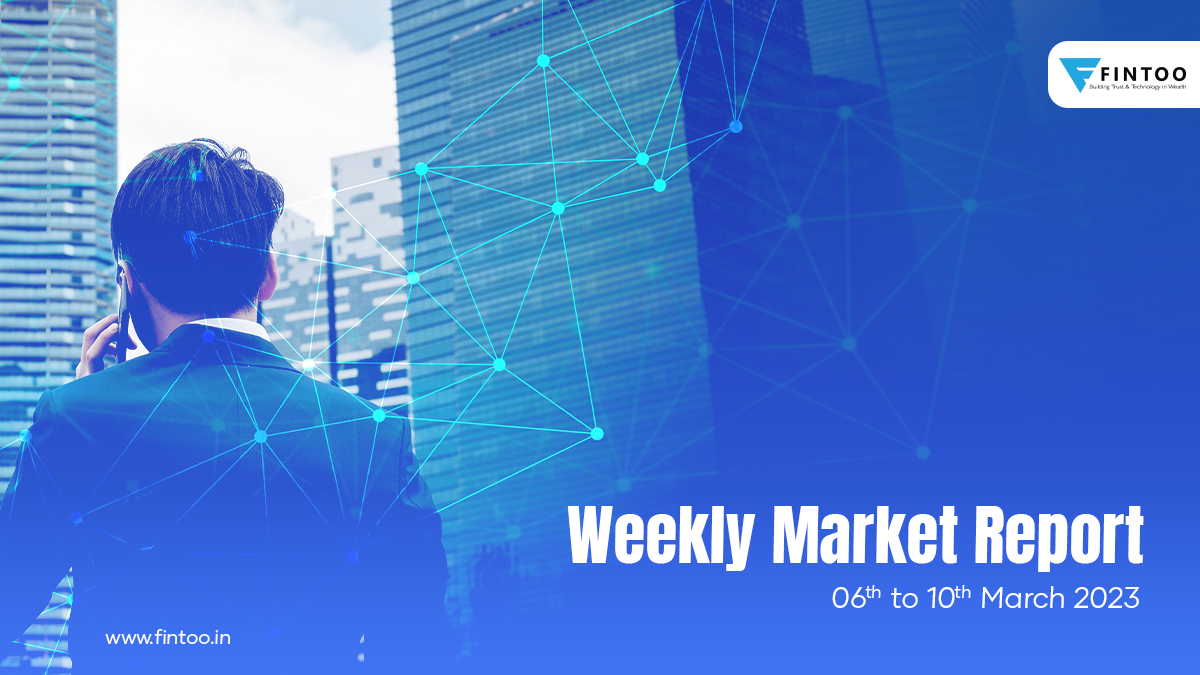 Nifty slips on hawkish Fed; Global cues will be in focus in the coming week
Indian markets stayed in correction mode on weak global cues as investors turned cautious ahead of the crucial jobs report later in the week. Markets were once again worried about sharper rate hikes after Fed Chair Powell hinted at a higher peak rate which triggered a large dollar rally. Global markets were also jittery due to news of the failure of SVB (Silicon Valley Bank) – which realized losses of USD 1.8 billion due to higher interest rates. This fuelled fears of contagion within the financial system and impacted sentiment, with bank stocks leading the declines.
For the week, the Nifty ended down by 1 pct while the Nifty Midcap and the Nifty Smallcap indices ended on a flat note. Banking and financial stocks fell about 1.8 pct, while the energy counter witnessed short covering over the week and ended up 1.9 pct. FIIs were net buyers to the tune of Rs 17.70 bn and DIIs were net buyers to the tune of Rs 12.1 bn.
Crude Oil prices closed lower at USD 82.78 a bbl (down 3.7 pct for the week) on increased worries that the U.S. Fed may go too far with its interest rate hikes to control inflation. Gold prices ended the week near USD 1,867 an oz and remained mostly in a range as demand for the non-yielding asset was affected by Fed Chair Jerome Powell signaling more rate hikes. According to the Centre for Monitoring Indian Economy, the Unemployment rate in India inched higher to 7.45 pct in February 2023 from 7.14 pct in January 2023, taking the total number of unemployed in the country to 33 mn compared to 31.5 million in January. This is on the back of a significant increase in rural unemployment after it was on a decline in the preceding four months.
Stocks/Sector in Spotlight
Bharat Forge through its E -Mobility subsidiary, Kalyani Powertrain, inaugurated its first E-bike manufacturing facility at MIDC Chakan on 08 March 2023. The facility has a production capacity of 60,000 units per annum and is scalable to 100,000 units per annum, will undertake assembly of E-bikes for Tork Motors, 64.29% owned by Kalyani Powertrain.
Mahanagar Gas has entered into a pact to acquire Unison Enviro, a subsidiary of Ashoka Buildcon, for Rs 5310 mn. The stock gained 9 pct for the week. Unison Enviro is authorized by PNGRB to implement the city gas distribution (CGD) network in Ratnagiri, Latur & Osmanabad in Maharashtra and Chitradurga & Devengere in Karnataka. Ratnagiri GA seems to be a strategic fit for MGL, as it is adjoining its Raigad GA, which could provide the synergy benefit of a faster ramp-up of Ratnagiri GA. The deal valuation is expensive, but it is structurally positive for MGL as it allows for growth opportunities beyond Mumbai.
Adani Group stocks gained after the promoters' prepaid share-backed financing of Rs 73.74 bn ahead of its latest maturity in April 2025. A total of 233 mn shares will be released as part of the latest prepayment. Along with the repayments done earlier in the month of February, Adani has prepaid USD 2,016 mn of share-backed financing, which is consistent with the promoters' commitment to prepay all share-backed financing before 31 March 2023.
Axis-Citi deal concluded on 1st March'23 for a consideration of Rs 116 bn. While the acquired asset portfolio at Rs 273 bn was largely intact (post deal announcement in Mar'22), deposits saw a rundown of Rs 102 bn to Rs 399 bn. Hence the deal value saw Rs 7.2 bn reduction. The acquired portfolio would increase Axis Bank's credit card base by 19 pct to 11.2 mn cards while the CC portfolio on a combined basis total Rs 292 bn (+43 pct).
Tata Technologies, a global product engineering, and digital services company, has filed a draft red herring prospectus dated 9 March 2023 with Sebi. It is planning an initial public offering by way of an offer for the sale of up to 9,57,08,984 equity shares for cash, representing approximately 23.60 pct of its paid-up share capital. Tata Motors currently holds 74.42 pct of Tata Technologies.
International News
U.S. jobless claims rose 11 pct last week – the most significant increase in five months – while planned layoffs for February jumped four-fold, year-on-year.
The US trade deficit widened to USD 68.3 bn in January from a revised USD 67.2 bn in December. Economists had expected the trade deficit to climb to USD 68.9 bn from the USD 67.4 bn originally reported for the previous month.
China's Consumer prices grew 1.0 percent on a yearly basis in February which was weaker than the 2.1 percent gain in January. This was the slowest pace since February last year and was below economists' forecast of a 1.9 percent increase.
Bank of Japan has said that it will stick to its longstanding monetary easing policies. Japan's Gross Domestic Product was flat on a seasonally adjusted quarterly basis in the fourth quarter of 2022. That was shy of expectations for an increase of 0.2 pct following the 0.3 pct contractions in the third quarter.
Mutual Funds Industry Update
MF inflow in equities crosses Rs 1.5-trn for the second straight fiscal
Domestic mutual funds (MFs) have kept their faith in the Indian stock market despite multiple headwinds all through 2022-23 (Fy23), with their net flows into equities crossing the Rs 1.5-trillion mark for the second consecutive financial year. MFs pumped a net Rs 1.53 trillion into equities till March 1, 2023, the SEBI data shows, as compared to Rs 1.72 trillion in FY22.
UTI Mutual Fund launches UTI Long Duration Fund
UTI Mutual Fund (UTI) has launched UTI Long Duration Fund, an open-ended debt scheme that will invest in debt and money market instruments with the portfolio Macaulay Duration is above seven years. The scheme will have a relatively high-interest rate risk and relatively low credit risk. The New Fund Offer (NFO) is open for subscription and will close on March 15. The scheme aims to generate optimal returns with adequate liquidity by investing in a portfolio of debt and money market instruments.
Bajaj Finserv gets Sebi approval for mutual fund business
Bajaj Finserv has received the final nod from markets regulator Sebi to commence its mutual fund business. Its asset management business has been named Bajaj Finserv Mutual Fund. Ganesh Mohan, who has been part of Bajaj Finserv for eight years and worked as group head – of corporate strategy, will take over as the chief executive officer at the fund house.
Outlook Week Ahead
Markets will initially react to the better-than-expected job numbers as it is expected to compel the Fed to raise rates by 50 bps in the March 22 meeting. The US economy unexpectedly created 311K jobs in February of 2023, well above market forecasts of 205K. The next week's data calendar is packed especially from China. India's inflation reading and Japan's trade data are some of the other macro numbers expected. China will release two months (January and February) of activity data on Wednesday, which will show an approximate picture of economic growth in the first quarter. On Monday, India releases CPI data for February. The consensus forecasts a more modest decline from 6.5 pct to 6.3 pct. The WPI data will be disclosed on Tuesday.
On the technical front, the current decline in the market has landed Nifty back into the cluster of support zone which has re-tested the earlier breakout point and the 50 WMA. We can expect a major uptrend for the market from current levels as Enhanced Nifty which holds around 51% weightage in the Nifty 50 Index has managed to complete a falling wedge pattern at the re-test point of the earlier breakout zone. For Nifty, 17,255 should be seen as rock bottom support and we expect the positive momentum to accelerate above 17,550 for a potential target of 19,500.
Disclaimer: The views expressed in the blog are purely based on our research and personal opinion. Although we do not condone misinformation, we do not intend to be regarded as a source of advice or guarantee. Kindly consult an expert before making any decision based on the insights we have provided.
Related Posts
Stay up-to-date with the latest information.