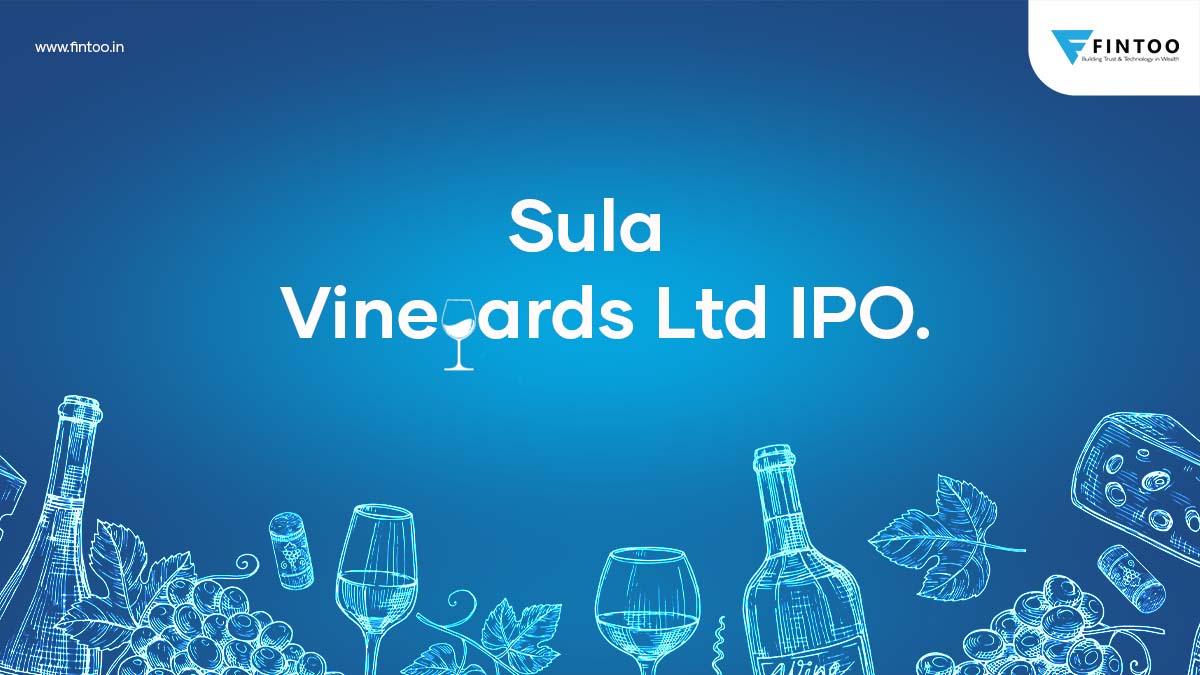 Highlights
| | |
| --- | --- |
| Issue Size – 26,900,530  shares | Issue Open/Close – Dec 12/Dec 14, 2022 |
| Price Band (Rs.) 340-357 | Issue Size- Rs 9150-9600 bn |
| Face Value (Rs) 2 | Lot Size (shares) 42 |
Sula Vineyards Limited (Sula) was incorporated on February 26, 2003. Sula is India's largest wine producer and seller as of March 31, 2022. They have been a consistent market leader in the Indian wine industry in terms of sales volume and value since FY09 crossing 50% market share by value in the domestic 100% grapes wine market in FY12.
The Company's business can be broadly classified under 2 categories namely (i) the production of wine, the import of wines and spirits, and the distribution of wines and spirits (the Wine Business); and (ii) the sale of services from ownership and operation of wine tourism venues, including vineyard resorts and tasting rooms (the Wine Tourism Business).
Sula distributes wines under a bouquet of popular brands. In addition to the flagship brand Sula, popular brands include RASA, Dindori, The source, Satori, Madera & Dia with its flagship brand Sula being the category creator of wine in India (Source: Technopak Report). Currently, the company produces 56 different labels of wine at four owned and two leased production facilities located in the Indian states of Maharashtra and Karnataka.
It has entered long-term supply arrangements (of up to 12 years) with grape growers for approximately 2,290 acres as of September 30, 2022.
Key Highlights
India is the world's third-largest market for alcoholic beverages, at $33 billion in 2020, but wine only accounts for 1%. The company believes this allows much room for growth, projecting total Indian sales of 3.4 million cases of wine in 2025, up 70% from the level in 2021.
Sula is the market leader across all 4 price segments, 'Elite' (Rs 950+), 'Premium' (Rs 700-950), 'Economy' (Rs 400-700) and 'Popular' (<Rs 400), with a higher share of approximately 61% by value in the 'Elite' and 'Premium' categories in FY22, as compared to their overall market share of 52% in the Indian wine industry.
Sula is also recognized as the market leader across wine variants, including red, white, and sparkling wines. Sula Shiraz Cabernet is India's largest-selling wine by value in FY21. The gross billings of Sula Shiraz Cabernet in FY22 amounted to Rs 91.83 crore.
Presently, the company produces 56 labels of wines across 13 brands from its production facilities in Karnataka and Maharashtra. Apart from this, the company also derives revenue from the hospitality segment with two wine resorts- Beyond Sula and the Source at Sula- in Maharashtra's Nashik.
As of January, this year the winery had a production capacity of over 13 million liters, of which 11 million liters are housed in Nashik and 2 million liters in Karnataka.
Valuation
The company enjoys leadership in the wine segment with over 52% market share. With wine forming just 1% of India's alcoholic beverage market, the Company has a huge scope for expansion with the Company being the market leader. At the upper end of the price band, the issue is quoting at PE of a PE of 49x its FY23E annualized earnings. The issue looks fully priced. Thus, cash surplus investors can apply for a longer-term perspective.
Disclaimer: The views expressed in the blog are purely based on our research and personal opinion. Although we do not condone misinformation, we do not intend to be regarded as a source of advice or guarantee. Kindly consult an expert before making any decision based on the insights we have provided.
Related Posts
Stay up-to-date with the latest information.