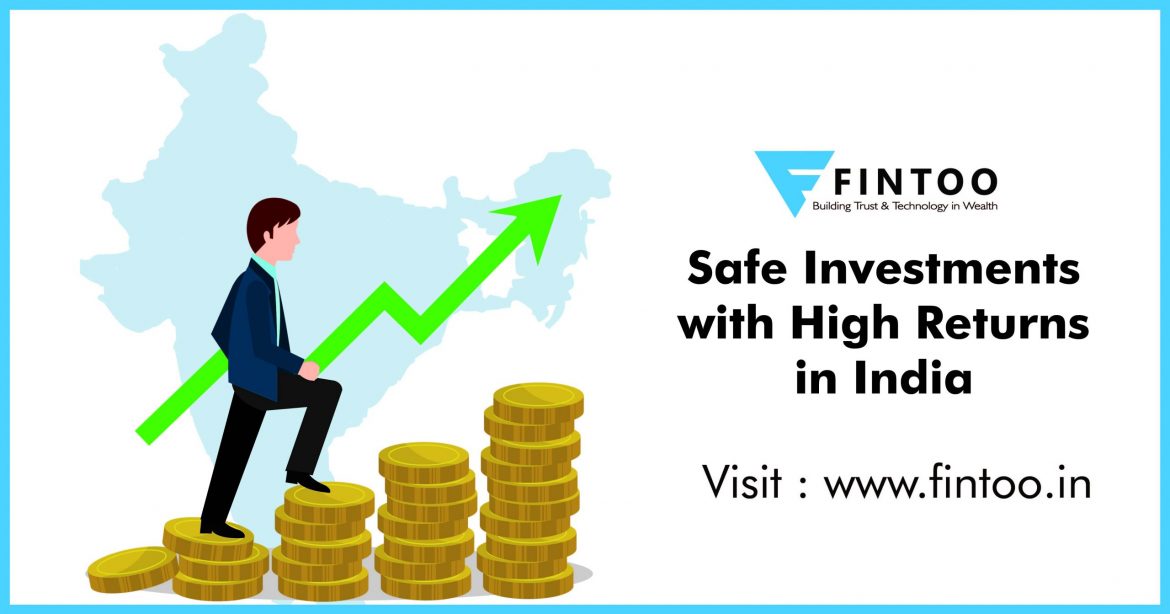 Never depend on a single income, invest to create a second source "Warren Buffet" In a nutshell, this implies if you don't make money while sleeping, you will have to spend your entire life working. Worried? Don't know where to invest? Always remember the first rule of Safest investment is not to lose and the second rule is to not forget the first rule.
While every investor is continuously looking for investment options that will give higher returns with minimum risk. But in reality, risk and returns are directly proportional to each other.  It will always be difficult for an investor to find out the safest investment plan which can be a combination of high returns & minimum risk.  Few investment plans can deliver huge returns but have huge risks.
On the other hand, you will find investments that are secured but have minimum returns. The primary goal of every investment should lead to attaining financial objectives in the long run. 
As the risk and returns go hand-in-hand, technically there is no safest investment option with high returns. However, here are a few safe investment options for investors with an extremely conservative risk profile that may not give you the kind of returns that you desire, but will still give you a decent amount of returns in the long run;
Debt Mutual funds-
Debt mutual funds are considered as their first choice by investors who are looking to earn a steady ROI. It generally consists of investments made in fixed deposit securities like corporate bonds, commercial papers, government securities, treasury bills, and others. The only objective of investment in a debt mutual fund is to earn interest and at the same time appreciate the capital.
Characteristics of Mutual funds
Mutual funds help in attaining your long-term financial objective by diversifying the portfolio.
A fund manager is allocated to every mutual fund that helps you select the right option for you as per your goals.
Investors can make an informed decision as the process of investment in a mutual fund is transparent.
Bank Fixed Deposit-
One of the most preferred choices of investors is a fixed deposit. As the name indicates fixed deposit offers fixed returns over some time. It is considered a popular fixed pay venture choice. The profits of a fixed deposit are payable either on a monthly, quarterly, or yearly basis, as per the rules of the bank.  Fixed deposits come with both cumulative and non-cumulative options. 
The non-Cumulative option means that interest will be paid and in the cumulative option, the interest amount will be reinvested and will be received at maturity cumulatively.
Characteristics of Bank Fixed Deposit-
Few banks provide overdraft facilities on fixed deposits and also renewal of bank deposits is very easy & simple.
It's a safe instrument tool and gives financial stability that offers easy good returns on your surplus funds.
The returns on fixed deposits are not influenced by market conditions.
National Pension Scheme ( NPS)-
As the name implies National pension scheme offers pension solutions to all its investors. It is backed by the government. The funds can be invested in bonds, equity, government securities, and other investment alternatives as per the investor choice. You can opt for any of the two options in National Pension Scheme 1
I. Auto
II. Active
The active option in NPS enables the investor to decide in regards to the investment of his choice. Whereas in the auto option the funds get invested automatically in various assets. The lock-in period of the National Pension Scheme depends ideally on the investor's age as the scheme will only mature when the investor turns sixty.
As per the National Pension Scheme, though the returns that are accumulated over a while are not completely tax-free, it can surely help you get some amount of exemption from tax. You can also choose to receive a pension amount on maturity in that case the amount is taxable as regular income.
Characteristics of National Pension Scheme
One can choose from the two options of his choice auto & active.
It helps the investor to remain independent after retirement.
Partial withdrawal of funds is also permitted to its investors.
RBI( Reserve Bank of India) Bonds-
RBI bonds are issued on behalf of the government by the Reserve Bank of India. The tenure of these bonds is of 7 years from the date of issue. It offers an interest rate of 7.15% annually. Investors can use premature redemption facilities in the age group of 60 years or as per RBI notification.  These bonds get accredited to the bond ledger account (BLA) of the investor and are furnished in Demat mode only.
You can purchase these bonds for Rs 1000/- (face value) and there is no limit on the maximum amount. One can purchase in multiples. The investor can opt for a non-cumulative option where the interest can be gained as regular income.  On the other hand, the interest accrued is reinvested and is offered with the cumulative option.
Characteristics of RBI Bonds –
There is no limit on the maximum amount of this investment.
Pradhan Mantri Vaya Vandana Yojana (PMVVY) –
Pradhan Mantri Vaya Vandana Yojana refers to the retirement cum pension scheme which is backed by the government of India. It is only accessible to senior citizens of 60 years and above. The scheme offers 7.4% of assured return to its investors every year.  You can opt for pension income either on a monthly, quarterly, semi-annually, or annually basis.
A maximum of Rs 15 lakhs can be invested for a time frame of 10 years which is currently available till March 31, 2023. The minimum pension amount is Rs 1,000 and the maximum amount is Rs 9250 that a person can opt for. In case the person dies before maturity the nominee will be entitled to receive the money. The amount that is invested by the person will be paid to the senior citizen at the time of maturity.
Characteristics of Pradhan Mantri Vaya Vandana Yojana Scheme –
Assured pension is provided along with a free look period.
An investor will be eligible to avail a loan of 75% of the purchase price on holding the scheme for at least 3 years.
An investor will be paid regularly his/her pension amount at a regular point of time.
Senior Citizen Saving Scheme-
It is one of the risk-free and tax-saving options available for senior citizens above 60 years in India. The scheme provides regular income to its investors. The rate of interest is also 7.40% annually which makes it a lucrative option. One can avail of the scheme throughout India via post offices and banks. The tenure of the scheme is only 5 years but you can extend it for another 3 years. In the SCSS scheme, the maximum amount that can be invested is Rs 15lacs.
Characteristics of Senior Citizen Saving Scheme–
Offers a high rate of interest
An investor can also add a nominee to the scheme.
During emergencies, one can withdraw funds before maturity.
Post office Monthly Income Scheme-
This scheme will help you save a particular amount, as well as get monthly returns to post the investment period. It is regulated by the Post office of India and backed by the government of India. Anybody who can open an account with a minimum amount of Rs 1500/- The maturity period of the scheme is 5 years and start when the account is initiated. You can either open an individual account or a joint account with any of your family members. In case you are looking to have any tax rebate then this scheme is not applicable.
Characteristics of Post Office Monthly Income Scheme–
Flexibility in terms of opening. You can initiate the scheme with 2 or 3 people.
Monthly earning is possible via interest.
The maximum amount that a person can invest in the Post Office MIS is Rs. 4.5 lakhs in individual accounts and Rs. 9 lakhs in a joint account.
While the above-mentioned investment options are considered to be one of the safest, but still, investing in the market does involve some amount of risk. But as they say, "Risk comes from not knowing what you are doing." It is always recommended to educate yourself and get a thorough knowledge about the process of safest investment planning, the kind of goals you wish to achieve, and the kind of investment options that match your requirements as well as your risk profile.
Above all, consulting a certified financial advisor, safest investment planning or financial planner is always the best way to start your journey towards achieving your desired financial position.
A financial planning platform where you can plan all your goals, cash flows, expenses management, etc., which provides you advisory on the go. Unbiased and with uttermost data security, create your Financial Planning without any cost on: http://bit.ly/Robo-Fintoo
Disclaimer: The views shared in blogs are based on personal opinion and does not endorse the company's views. Investment is a subject matter of solicitation and one should consult a Financial Adviser before making any investment using the app. Making an investment using the app is the sole decision of the investor and the company or any of its communication cannot be held responsible for it.
Related Posts
Stay up-to-date with the latest information.