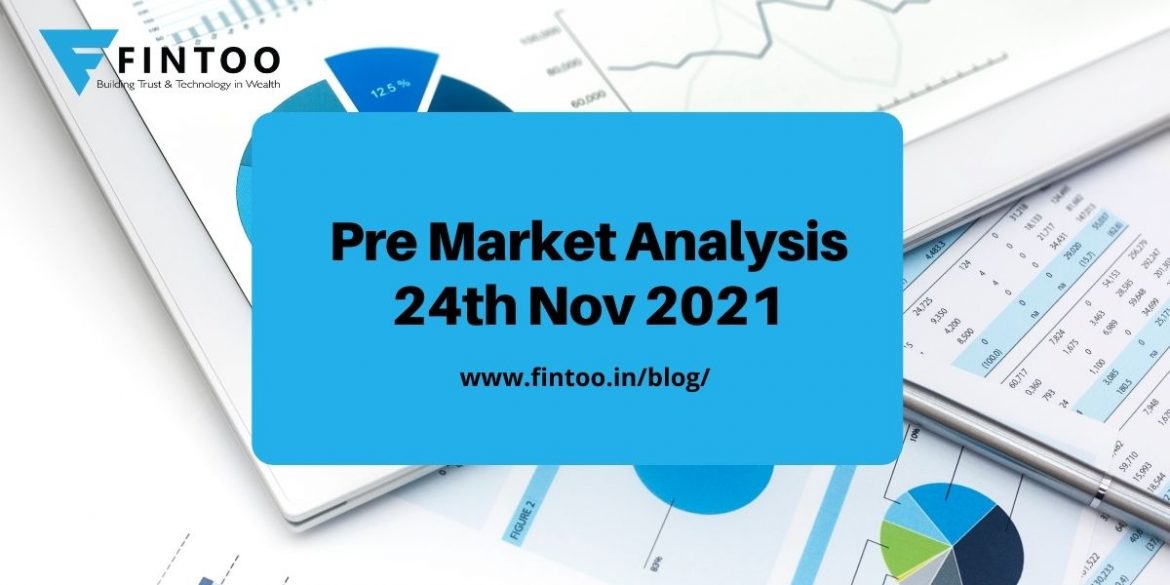 Markets attempted to break the crucial support of 17312 in initial hours but buying from domestic participants forced recovery to help Nifty close above 17500 with major out performance from midcap and small cap segment. As market has already opened wider cracks below 50 DMA, we can expect surprise hammering by bears in the coming days. With domestic operators putting extra effort to salvage current F&O expiry above 17312, it will not have enough fireworks to extend rally beyond 17600. Expect next leg of down move to be more vicious and should be positioned to add aggressive short positions in large caps when Nifty closes below 17312. Adding to it, rise in Brent Crude has reinforced bullish momentum for short term upside towards USD 110 a bbl.
U.S indices closed mixed as rising Treasury yields prompted investors to sell Tesla and other Big Tech names and buy stocks with lower valuations. The Dow Jones Industrial Average rose 0.55% to end at 35,813.8 points, while the S&P 500 gained 0.17% to 4,690.7. The Nasdaq Composite dropped 0.5% to 15,775.14.
Stocks in news
Coal India to consider dividend on Nov 29.
Bharti Airtel- Moodys revises rating outlook to positive from stable.
Zee Entertainment says Sony Merger is on track and in final stages.
First source reiterates FY22 revenue growth guidance, expects bounce back in Q4.
Poonawala Fincorp- Sanjay Chamria steps down as executive vice chairman.
Himadri Chemicals- ICRA downgrades ratings on different facilities.
Vedanta – Promoters Vedanta Netherlands Investments B.V. acquired 5,00,14,714 equity shares and Twin Star Holdings bought 8,78,72,748 equity shares in the company at Rs 349.7 per share on the NSE
Steel prices could climb "much higher" over the next decade compared with the previous decade, Tata Steel CEO
Must Read: Everyone Teaches You To Save Money, But No One Teaches You How To Spend It?
A financial planning platform where you can plan all your goals, cash flows, expenses management, etc., which provides you advisory on the go. Unbiased and with uttermost data security, create your Financial Planning without any cost on: http://bit.ly/Robo-Fintoo
Disclaimer: The views shared in blogs are based on personal opinion and does not endorse the company's views. Investment is a subject matter of solicitation and one should consult a Financial Adviser before making any investment using the app. Making an investment using the app is the sole decision of the investor and the company or any of its communication cannot be held responsible for it.
Related Posts
Stay up-to-date with the latest information.