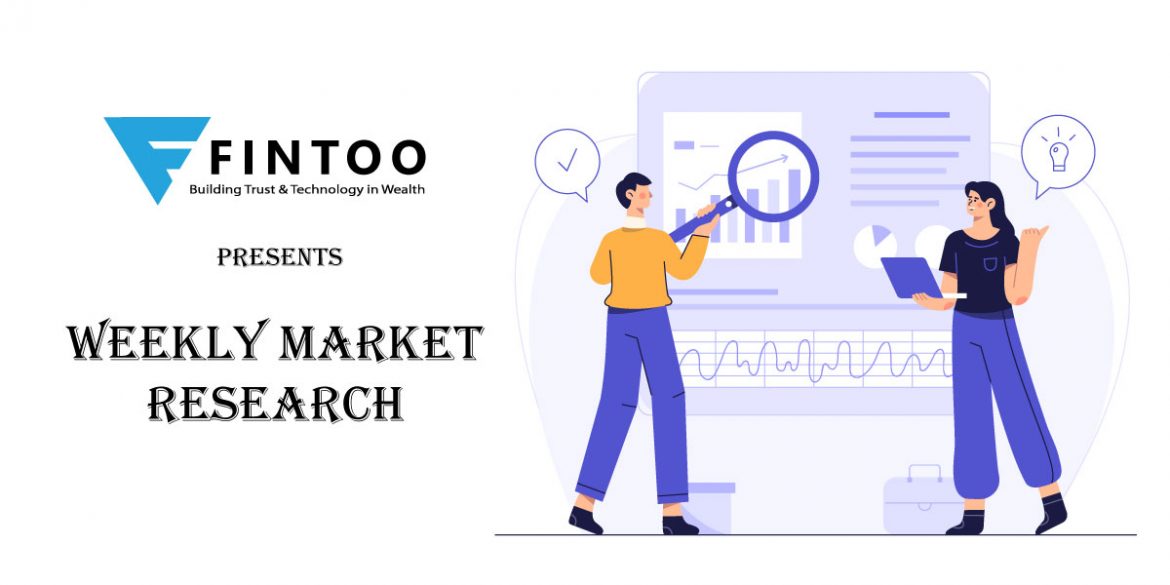 New Highs continues, global cues to dictate trend
Indian markets began September series on a positive note as Nifty hit record highs and managed to close above 16700 levels for first time. Mid cap index continued its upside momentum along with IT and FMCG counter. Banking stocks however once again remained laggard during the week. Uncertainty prevailed about U.S. monetary policy and geopolitical tensions over Afghanistan. Indian markets followed its global peers and remained in a wait and watch mood ahead of Powell's speech in Jackson Hole. Full approval granted to the Pfizer/BioNTech vaccine though supported the sentiments.
The continuing spread of the delta variant of the coronavirus in several countries as well as the strong resurgence of infection rates in the U.S worried investors. Back home too, India recorded a spike of 44,558 new Covid-19 cases in the past 24 hours out of which, over 31,000 were from Kerala. A possibility of drought conditions are on the horizon as total monsoon rainfall since the season began on June 1 is 10 pct below normal. A private report stated that India's volatile and below-normal monsoon rainfall may create challenges for inflation and economic growth in rural areas over the medium-term. Crude Oil prices gained sharply during the week with Brent up about 11 pct to around USD 72 a bbl. after U.S. government data showed that fuel demand climbed to its highest since the start of the COVID-19 pandemic.
For the week, the Sensex closed above the 56,000 mark and the Nifty settled above the 16,700 mark. The broader market outperformed with the Nifty Midcap 100 and Nifty Smallcap 100 index ending up by 2 pct each. FIIs were net sellers to the tune of Rs 68.30 bn while DIIs were net buyers to the tune of Rs 63.82 bn. For the month of August, FIIs net sold equities to the tune of Rs 76.52 bn while DIIs were buyers to the tune of Rs 80.78 bn.
The much awaited Jackson Hole symposium from the U.S Federal Reserve did not give out any cues as Powell clearly took a cautious approach in his address. In the coming week, Indian markets will track global cues, progress in monsoon and crude oil price movement. Markets will also keep an eye on key economic data such as IIP, GDP and PMI. IIP data for July will be released on 31 August. India's GDP for the April-June quarter of the ongoing fiscal will be released on 31 August. Manufacturing PMI will be declared on 1 September while Services PMI will be declared on 3 September.
Key Updates during the week
Finance minister Nirmala Sitharaman launched a four-year road map for a Rs 6-lakh-crore asset monetisation plan. A large chunk of this will be through brownfield assets of central ministries and public sector entities across roads, railways and power.
RBI extended the scheme for encouraging deployment of Point of Sale (PoS) infrastructure to street vendors covered under the PM SVANidhi programme in tier 1 and 2 centres
Nasscom said that the new rules for operating drones in the country will usher in new growth opportunities and enable startups and SMEs to create innovative use cases and applications in various sectors like e-commerce, mining and emergency response.
Union Road Transport and Highways Minister Nitin Gadkari asked vehicle manufacturers to discourage production and sale of diesel engine vehicles, and urged them to promote other technologies. The minister said he is looking forward to the industry for quick roll-out of E20-compatible vehicles. E20 is a blend of 20 per cent ethanol and 80 per cent petrol.
Governor Shaktikanta Das states that the Reserve Bank of India (RBI) won't surprise the market with a sudden rate hike and all monetary policy actions would be carefully calibrated.
India's air safety regulator said it had cleared Boeing Co's 737 MAX aircraft to fly with immediate effect, ending its nearly two-and-a-half-years of regulatory grounding in a key travel market for Boeing.
The Centre hiked the minimum price that mills have to pay to sugarcane growers, also known as the Fair and Remunerative Price (FRP), by Rs 5 per quintal to Rs 290 a quintal for 2021-22 (October-September) sugar season while ruling out any immediate commensurate increase in the sale price of sugar.
Must Read- What Is a Cibil Score and How to Improve it?
The Supreme Court has granted relief to Airtel and has restrained DoT from encashing Airtel's Bank Guarantees.
The Competition Commission of India (CCI) imposed a fine of Rs 200 crore on the country for anti-competitive practices related to how it forced dealers to discount cars.
SEBI kept the proposed Rs 4,500-crore initial share-sale of edible oil major Adani Wilmar in 'abeyance'. The company had filed preliminary papers with Sebi on August 3, to raise funds through an IPO.
Tata Consultancy Services announced that Standard Bank's short-term insurance business in South Africa has selected TCS BaNCS™ Cloud for Insurance to power its digital claims transformation and reaffirm its leadership in the region
Cipla and Kemwell Biopharma, a leading biopharmaceutical Contract Development and Manufacturing Organisation announced the execution of a joint venture agreement to develop, manufacture and commercialise biosimilars for global markets. For this purpose, a joint venture company shall be incorporated with an aim to enter the respiratory biosimilars space.
SpiceJet has entered into a settlement with Avolon, a major lessor of MAX aircraft, paving the way for the airline's 737 MAX aircraft to start to return to service. The airline expects to start operations of MAX aircraft around the end of September 2021 subject to regulatory approvals.
Author: Nisha Harchekar – M.M.S (Finance) – 16 yrs+ experience as Equity Research Analyst
Fill in the details and our Income Tax Filing experts will get in touch with you. Hassle-Free Online ITR Filing with Fintoo! Start e-Filing
To get started with personalized Automated financial planning visit – http://bit.ly/Financial-Planning-Tool
Disclaimer: The views shared in blogs are based on personal opinion and does not endorse the company's views. Investment is a subject matter of solicitation and one should consult a Financial Adviser before making any investment using the app. Making an investment using the app is the sole decision of the investor and the company or any of its communication cannot be held responsible for it.
Related Posts
Stay up-to-date with the latest information.