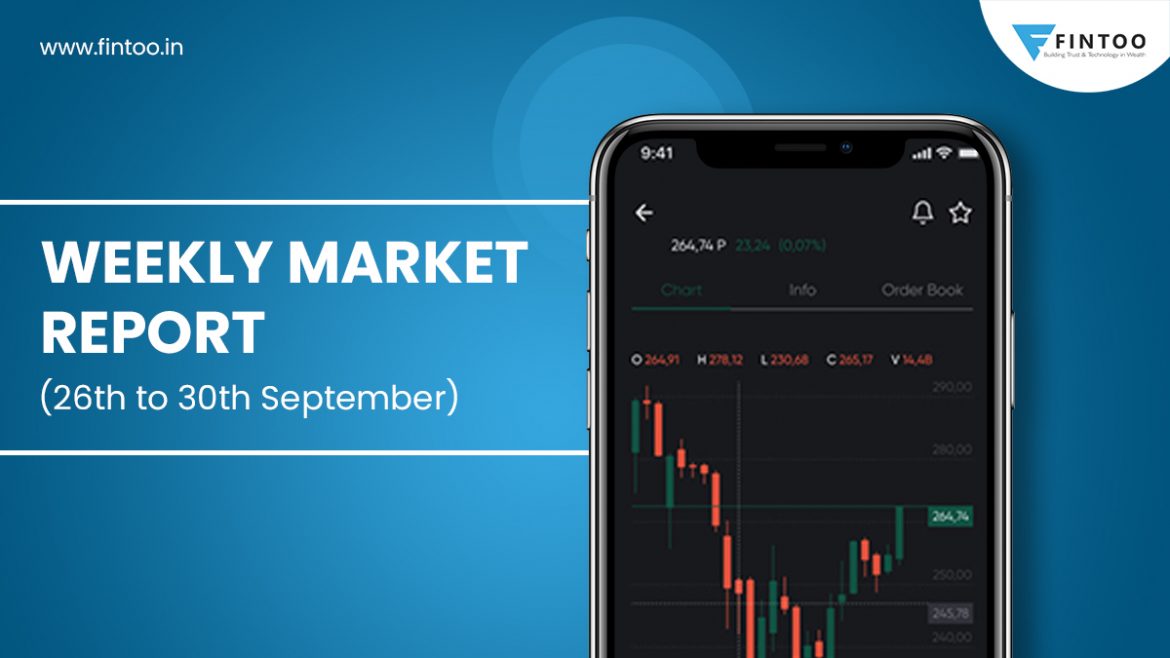 Markets end in the red in a volatile week; Fed rate action dictates the trend
Indian stock market position
Equity markets fell during the week as volatility remained high on weak global market cues and the Fed chairman commented that the central bank will continue to raise rates to end high inflation, even if it pushes the country into a recession. The MPC delivered a 50 bps hike in line with expectations and the markets reacted positively as the Nifty Bank index rallied by close to 1000 points and the Nifty moved above the 17,000 mark. The Nifty ended down by 1.3% to 17,094 levels. The fall could have been sharper if not for the 270 points recovery on Friday.
The Nifty Midcap and Nifty Smallcap indices lost between 1.3% and 1.5% respectively. On the sectoral front, the Nifty Pharma and Nifty IT index gained by 2.9% and 1.5% respectively, and were the only sector gainers. Nifty Auto index and Nifty Bank index fell by 3% and 2.3% respectively. The Nifty Metal index declined sharply and fell 4.3%. The Nifty Pharma index gained 2.9% as pharma stocks rallied on the back of defensive buying in the sector Pharma stocks have been lately surging along with FMCG stocks as the volatility in the overall market rises.
Foreign investors and the resistance to USDINR
FIIs were net sellers to the tune of Rs 158.6 bn while DIIs were net buyers to the tune of Rs 159.86 bn. For the month of September, FIIs sold equities worth Rs 183.08 bn after Rs 220.25 bn of buying in the month of August. DII bought equities worth Rs 141.2 bn in September.
USDINR failed to surpass the resistance of 82 and ended the week with gains of less than 0.5%. The crucial support of USDINR is seen at 81.20 below which expects USDINR to come under pressure to test 78.5.
Hurricane Ian's effect on crude prices
Brent oil bounced off an eight-month low as the arrival of Hurricane Ian in the Gulf of Mexico caused disruptions in the U.S. crude supply. Prices were also supported by U.S. crude inventories showing a surprise drawdown, which dispelled some concerns over falling short-term demand at the world's largest consumer. Brent crude is currently at USD 85.5 a barrel.
RBI's repo rate hike policy and its speculated impact
The markets reacted positively to the RBI policy outcome as it aligned with expectations. RBI hiked rates by 50 bps to 5.90% to tame inflation which remains above its comfort zone as policymakers were firm to control the stubbornly above-target retail inflation rate. The RBI governor's comments on the Indian economy are a reaffirmation of this 'India resilient' theme. The FY23 GDP growth forecast is downwardly revised by 20 bps to 7.0% post the negative surprise from the Q1 FY23 GDP print of 13.5%. As per RBI, the recent correction in global crude oil prices if sustained may provide relief to inflation.
Stocks in action
In stocks-specific action, Auto stocks were in focus as the government deferred until October 2023 the implementation of norms mandating six airbags in all cars, giving the industry a one-year extension. Bharti Airtel will be in focus this week as it has launched 5G in eight cities. With this, Bharti Airtel has become the first company to launch 5G services in the country. 5G from Airtel will be available in 8 cities – Delhi, Mumbai, Varanasi, Bangalore and other towns announced Mr. Mittal of Bharti Airtel.
A positive week for the automobile sector
Automobile numbers for the month of September saw a rise in domestic sales. Maruti Suzuki India sold a total of 1,76,306 units in September, including 1,50,885 units in the domestic market. Hero MotoCorp sold a total of 5.19 lakh vehicles last month, as against 5.3 in September 2021. Tata Motors reported a 42.1% rise in total sales in September 2022 to 2.43 lakh. TVS Motor reported total sales of 3.79 lakh units of vehicles in September, up 9% YoY. Ashok Leyland's total domestic sales for September 2022 increased 88% to 16,499 vehicles. Escorts Kubota reported a 38.7% jump in sales to 12,232 tractors last month.
India's GST revenue report
On the macro front, India's gross GST revenue collection surpassed 1.4 lakh crore. In the month of September, the government collected Rs 1,47,686 crore in gross GST revenue. S&P Global Ratings projected India's economic growth at 7.3% in the current fiscal with downside risks and said inflation is likely to remain above RBI's upper tolerance threshold of 6% till the end of 2022.
What's ahead?
Volatility is expected to continue this week as global cues, FII flows and currency movement will be watched closely. Automobile stocks will be in focus as the stocks will react to the monthly sale numbers declared over the weekend.
Markets are also expected to react to the Credit Suisse Group AG's Chief Executive Officer's comments that the bank is at a "critical moment" as it prepares for its latest overhaul while stressing the bank's strength. Markets are expected to react to the news and rumors of a potential collapse as it may trigger a series of crises, it is a systematically important entity globally.
With the recent correction, the valuations have come back to decent levels. The recession fear and global market melt-down have led by risk aversion amongst investors and markets seem to be oversold for now. With a sharp rally on the last day of the month, markets have given some hope to the bulls. We maintain our bullish stance on the markets with a near-term target of 18,200 in the Nifty.
Disclaimer: The views expressed in the blog are purely based on our research and personal opinion. Although we do not condone misinformation, we do not intend to be regarded as a source of advice or guarantee. Kindly consult an expert before making any decision based on the insights we have provided.