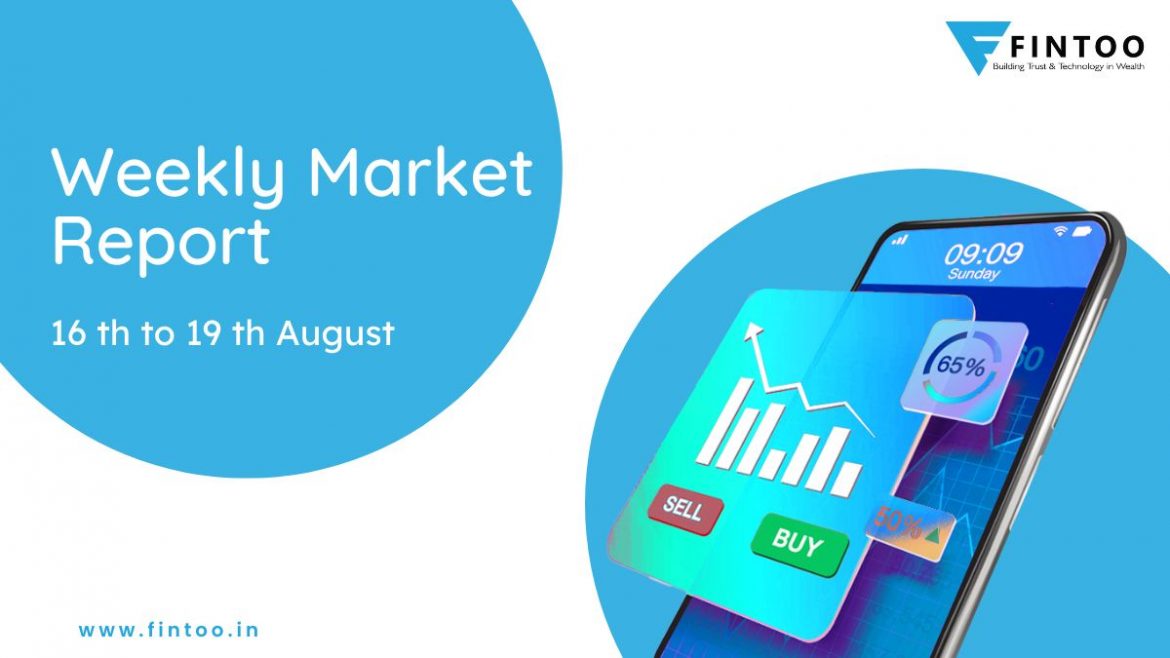 Markets extend gains, FIIs flows and earnings are in focus this week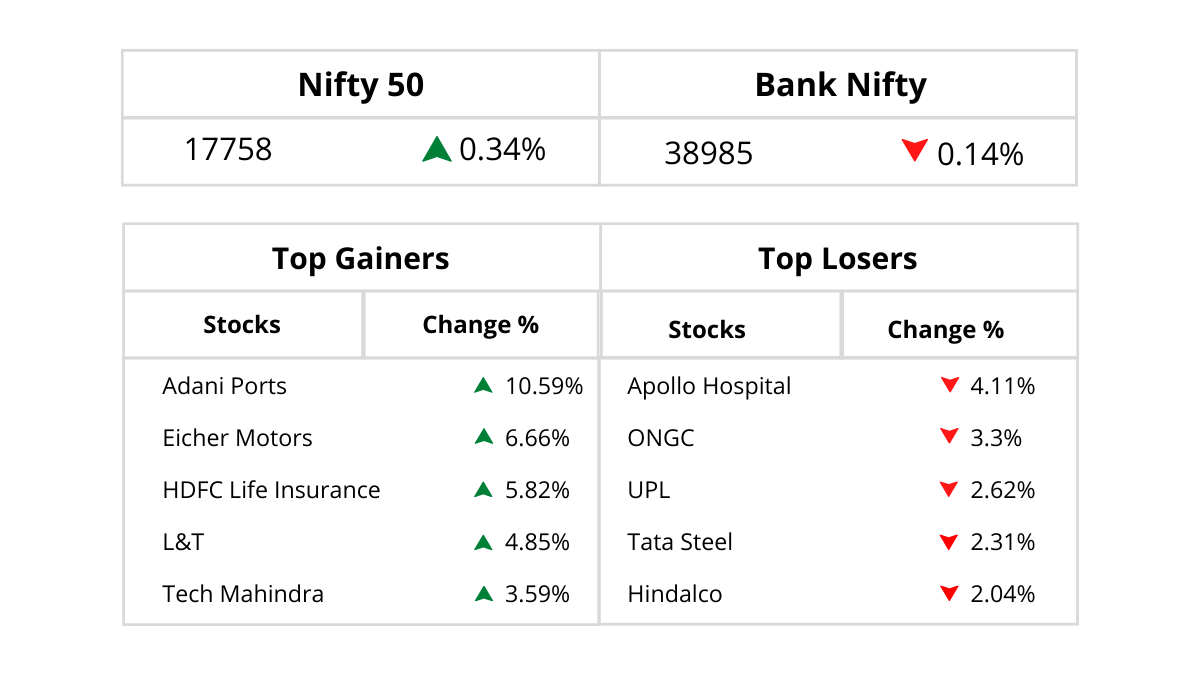 Markets this week just stopped shy of their previous swing highs. Nifty touched a high of 17992 and tried to close above its previous swing high of 18000 (April 22) while Bank Nifty just crossed its April '22 swing high of 38750 but found stiff resistance at a higher level and closed at 38986. Market sentiments remained cautious this week after a consecutive rally for four straight weeks in the benchmark indices. Nifty remained in a 200-point trading range with a low of 17710 and a high of 17992 for the past week while for the Bank Nifty the range remained at 650 points with a low at 38848 and a high at 39759.
The markets on a whole remain muted with most market indices skewed positively anywhere between 0.1% to 1.5%. Nifty Realty was the highest gaining sector for the week raising 1.6% for the week while weakness was seen in the Nifty PSU Bank index will losses of 1%
The rupee too seems to have halted its decline against the dollar and appears to be stabilizing between Rs. 79.75 to Rs. 79.95. This is on the back of better inflation numbers in India and US with the expectation of an aggressive rate hike diminishing. This is also visible in the easing of the dollar index with a halt in the aggressive appreciation the dollar experienced against its basket currencies.
Major Global Economic Events
On a global, level India, China, and Europe delivered important economic data. China reported its IIP or Index of Industrial Production was released on 15th Aug and came in a tad bit lower at 3.8 compared to 3.9 on a month-on-month basis. This is on account of the power shortages that China has been facing causing companies to halt production partially or completely.
On the other hand, India and Europe delivered WPI and CPI data respectively. Inflation concerns in India seem to be cooling off a little with a halt in the bullish inflation trajectory with India reporting WPI of 13.93. This is the 3rd consecutive week for which WPI decreased from 15.18 last month and 16.63 in the month before that. CPI eased to 6.71% in July 2022 compared with 7.01% in the preceding month.
Europe however has a different story. Europe reported its CPI index that came in at 8.9, which is 3.5% higher than the previous month of 8.6.
Stocks
Hero MotoCorp
Hero MotoCorp reported Q1 2022 numbers on 16th Aug '22. Consolidated revenue rose 54% on a YoY basis to Rs 8,448 crore as compared to Rs 5,503 crore. The company reported a 131% growth in its consolidated net profit at Rs 590 crore for the first quarter ended June 2022 as against Rs 256 crore recorded a year ago. On a sequential basis, the profit slipped 3.4 percent from Rs 611 crore earned during the January–March period. The stock was positive to this and was seen up 3.4% on a weekly basis.
IRCTC
IRCTC has floated a tender to hire a consultant for the monetization of digital assets including user base, and passenger travel-related transactions. It has floated a tender to hire a consultant to monetize rail ticketing data. IRCTC has a reservoir of a huge amount of digital data, thanks to its strong monopoly in the railway ticketing space. This data s expected to translate into huge revenues for the company as well as the partners that would work on this data. On the back of this news, IRCTC gained 7% on the 18th Aug while the stock has been down -1.18% on a weekly basis.
Hindustan Aeronautics Limited (HAL)
Hindustan Aeronautics Limited (HAL) has signed an MoU for establishing an office in Kuala Lumpur (Malaysia) supporting the Malaysian Defence Forces and industry for sustainable aerospace. HAL has taken this step with a view of tapping the latest tender for light combat aircraft the Malaysian Airforce is looking to purchase. HAL is poised to be the strongest contender for the tender.
Market Outlook For The Coming Week
Going forward, we may see stock-specific movements in the market. Hence, investors are advised to have a stock-centric approach and track global as well as domestic developments for further cues. Trading is expected to be volatile this week as traders roll over positions on account of derivatives contract expiry. In addition, the trend of institutional activity will also be closely watched along with the progress of the monsoon. We continue to maintain our positive stance on Nifty with an immediate target of Nifty at 18266.
A financial planning platform where you can plan all your goals, cash flows, expenses management, etc., which provides you advisory on the go. Unbiased and with uttermost data security, create your Financial Planning at Rs. 99/-
Disclaimer: The views shared in blogs are based on personal opinions and do not endorse the company's views. Investment is a subject matter of solicitation and one should consult a Financial Adviser before making any investment using the app. Making an investment using the app is the sole decision of the investor and the company or any of its communication cannot be held responsible for it.