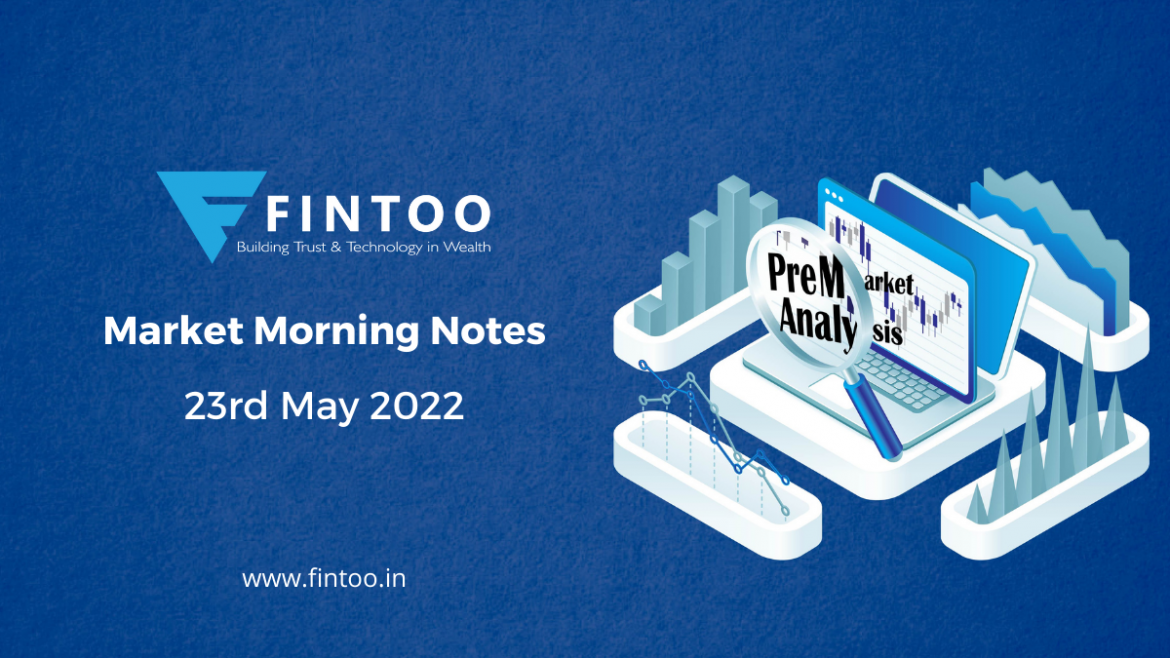 Markets for the week made a sharp comeback with Nifty and Bank Nifty gaining over 3% but Metals and Technology indices suffered major damage with Nifty closing above the key resistance of 16,123.
The weekly closing above 16,123 has confirmed a major trend reversal from a downtrend with immediate upside seen at 17,200 for a week and beyond. The recent sell-off from broader markets may be led to major fund diversion towards Banking and Financials and this can be seen from the bullish formation in the ratio of Bank Nifty to Nifty which is expected to rise 25% in the coming days.
We expect some positive triggers to emerge for Banking stocks and the Nifty may resume its upward journey towards 19,867 in the coming months.
Key Results today– Zomato, Divis Lab, BEL, SAIL
Bank Nifty & Ratio of Bank Nifty to Nifty 50 Index

Stocks to watch
Positive Read Thorugh
Jindal Stainless- Jindal arm plans defense foray, looks to build armored vehicles
Oil Mktg Cos- Govt has reduced excise duty on petrol and diesel by Rs 8 a liter and Rs 6. OMCs have passed on the entire benefit of excise duty cut to customers.
Additional amt of Rs 1.10 lakh crore subsidy to be given in FY23- RCF, Madras Fertiliser in focus.
NTPC- strong beat on estimates, revenue up 24 pct, margin at 31 pct vs 25 pct YoY
BHEL- Revenue up 12.4 pct, margin at 14.3 pct, Power Business revenue up 24 pct YoY
Real Estate cos- Govt reduces custom duty on raw materials of steelBHEL- Revenue up 12.4 pct, margin at 14.3 pct, Power Business revenue up 24 pct YoY
Zydus Life- Co confident of maintaining a margin higher than 20 pct in FY23
Autos- export duty on steel and excise duty cut on fuel
Negative Read Through
Autos- export duty on steel and excise duty cut on fuel
Steel cos- Govt imposes 15 pct export duty on steel vs NIL earlier
Shree Cement- earnings below estimates, margin at 22 pct vs 30 pct YoY
Glenmark- Goa unit gets 5 observations and US Monroe unit 17 observations
Amara Raja Batteries- weak operational performance, margin down 570 bps YoY
Thermax- Revenue up 26 pct, margin at 6.7 pct vs 8.8 pct YoY
Paytm- EBIDTA loss widens, monthly GMV per transaction down 6 pct QoQ
A financial planning platform where you can plan all your goals, cash flows, expenses management, etc., which provides you advisory on the go. Unbiased and with uttermost data security, create your Financial Planning at Rs99/-
Disclaimer: The views shared in blogs are based on personal opinions and do not endorse the company's views. Investment is a subject matter of solicitation and one should consult a Financial Adviser before making any investment using the app. Making an investment using the app is the sole decision of the investor and the company or any of its communication cannot be held responsible for it.