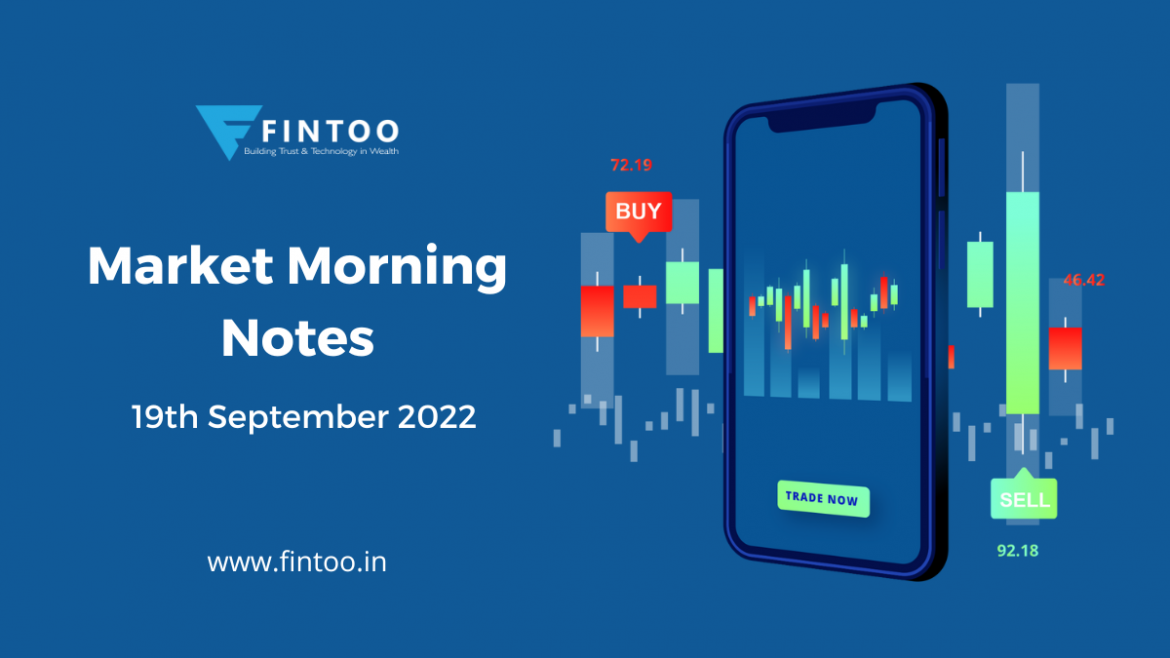 Markets on Friday sold off ahead of U.S Fed meet on expectations that a higher-than-expected CPI number would force the Fed to resort to an aggressive rate hike of 100 bps to curtail inflation. Nifty ended lower by 1.7% after hitting 24 weeks high while Bank Nifty posted weekly gains of 1% after hitting an all-time high.
Due to sectoral diversion in the Indian market with the Nifty IT index moving into a 52-week low while Bank Nifty hitting an all-time high, the Nifty 50 benchmark has outperformed U.S. markets by a wide margin of 16% and this move may attract further buying by foreign players in the near term.
In short term, after Friday's correction, the spread of the Nifty50-Nifty500 Index has moved back to the support zone of the bullish flag and would ensure good chances of a sustainable rebound in the coming days with the expectation of Nifty 50 hitting an all-time high in the coming week.
BSE Sensex Daily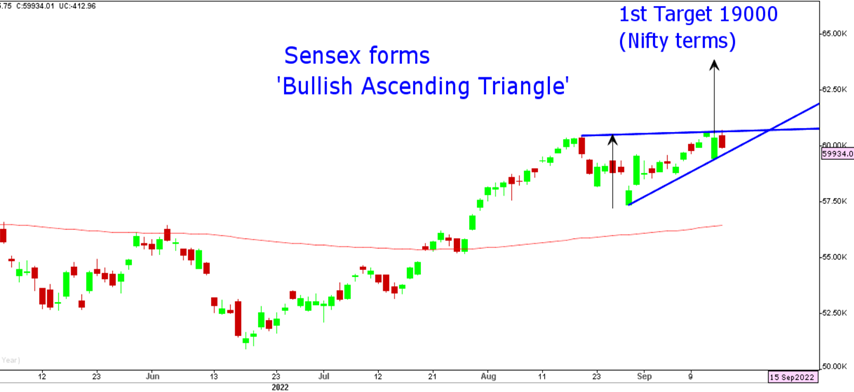 Stocks to watch
Positive Read through
Logistics cos- Logistics policy announced. To build a unified interface platform.
Ambuja Cements- 47.74 cr warrants issued to the promoter at Rs 418.87 a sh.
Amara Raja bets on EV sector; expects turnover to touch Rs 3,000 cr by 2025.
Maruti to ramp up exports; targets shipments worth Rs 20,000 cr in 3 years.
Lupin launches generic Suprep Bowel Prep Kit in the US.
M&M: Ontario Teachers Pension plans, will acquire a 30% stake in Mahindra Susten at an equity value of Rs 2,371 crore.
Shree Renuka Sugars expanded its capacity for ethanol production, from 720 KLPD to 1250 KLPD and is expected to go on stream by December 2022.
ONGC, RIL, Vedanta- India has reduced windfall tax on domestically produced crude oil as well as cut export duty on diesel and aviation turbine fuel.
Defence Cos- Army invites Cos to offer critical equipment for emergency procurement.
Tata Power assures quality – the power to industries, to invest Rs 5,000 crore in capex.
HDFC Life- NCLT nod for merger of Exide Life into Company.
Negative Read through
Citi Gas- India's Natural Gas consumption slides 10% in Aug YoY.
Maruti Suzuki has recalled 5,002 units of its Super Carry LCV to fix potential issues with a bolt.
Adani Power withdraws the delisting proposal in 2020.
Cipla- gets 3 repeat observations from USFDA for the Goa plant.
BPCL divestment is not on the table as of now, says oil minister Hardeep Singh Puri.
A financial planning platform where you can plan all your goals, cash flows, expenses management, etc., which provides you advisory on the go. Unbiased and with uttermost data security, create your Financial Planning at Rs. 99/-
Disclaimer: The views shared in blogs are based on personal opinions and do not endorse the company's views. Investment is a subject matter of solicitation and one should consult a Financial Adviser before making any investment using the app. Making an investment using the app is the sole decision of the investor and the company or any of its communication cannot be held responsible for it.
Related Posts
Stay up-to-date with the latest information.