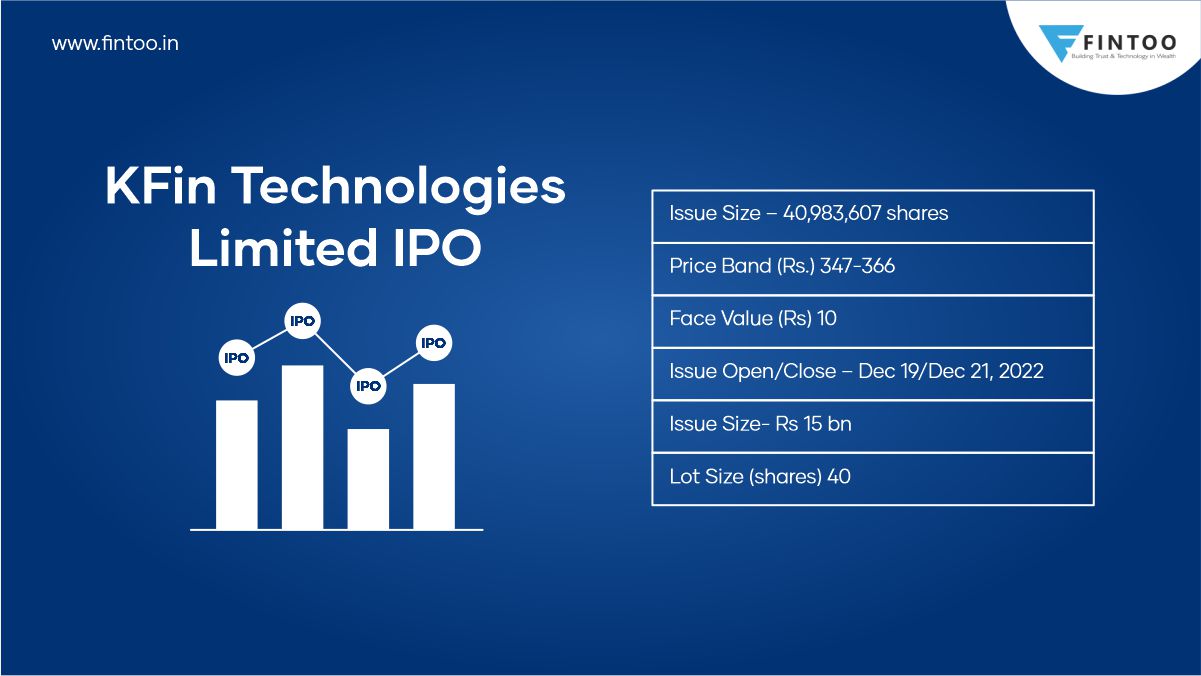 | | |
| --- | --- |
| Issue Size – 40,983,607 shares | Issue Open/Close – Dec 19/Dec 21, 2022 |
| Price Band (Rs.) 347-366 | Issue Size- Rs 15 bn |
| Face Value (Rs) 10 | Lot Size (shares) 40 |
KFin Technologies Limited (KFintech) leading technology-driven financial services platform providing comprehensive services and solutions to the capital markets ecosystem including asset managers and corporate issuers across asset classes in India and provide several investor solutions including transaction origination and processing for mutual funds and private retirement schemes in Malaysia, Philippines and Hong Kong.
KFin Technologies Limited is one of the largest registrars and a market leader, servicing over 90 million investor accounts spread over 1300 issuers including banks, PSUs, and mutual funds. Fintech provides SaaS-based end-to-end transaction management, channel management, compliance solutions, data analytics, and various other digital services to asset managers across segments, as well as outsourcing services for global players.
Key Highlights
The company is providing services to 24 out of 41 AMCs in India, as on September 30, 2022, representing 59 pct of the market share based on the number of AMC clients. As on September 30, 2022, KFin holds a 46 pct market share based on the market capitalization of NSE 500 companies in India's issuer solutions space, as per CRISIL.
The company operates in multiple large markets in India, Hong Kong, Malaysia, and the Philippines, along with a presence in Oman and Maldives, across several of these asset classes. This has allowed it to grow as a regional business and not just as an India-focused business.
KFin's technology offering enables transaction lifecycle management combined with highly secure data collection, processing, and storage; It works with a data center that houses over 350 servers and a data storage handling capacity of over 250 TB. The Company has launched over 20 new products over 3 years with two products in the pipeline.
KFin operates an attractive business model with a demonstrated track record of consistent profitability and returns while operating an asset-light model which has previously generated a strong free cash flow.
KFintech has comprehensive product platform solutions built on technology. It intends to develop a co-innovation laboratory with key industry players in ETF and index funds to drive research and development in this area. Its focus is to develop products and platforms with sector-agnostic capability that will further allow it to diversify its client base.
Key Risks
Significant revenue from the mutual fund sector.
Limited customer count.
Significant disruptions in its information technology systems or breaches of data security could adversely affect it's business and reputation.
Valuation
At the upper end of the price band, the issue is quoting at a PE of 36x its FY23E annualized EPS. Based on the current financials, the issue seems to be fully priced. Thus, one can avoid applying for the IPO and can consider it post-listing in the secondary markets.
Disclaimer: The views expressed in the blog are purely based on our research and personal opinion. Although we do not condone misinformation, we do not intend to be regarded as a source of advice or guarantee. Kindly consult an expert before making any decision based on the insights we have provided.
Related Posts
Stay up-to-date with the latest information.