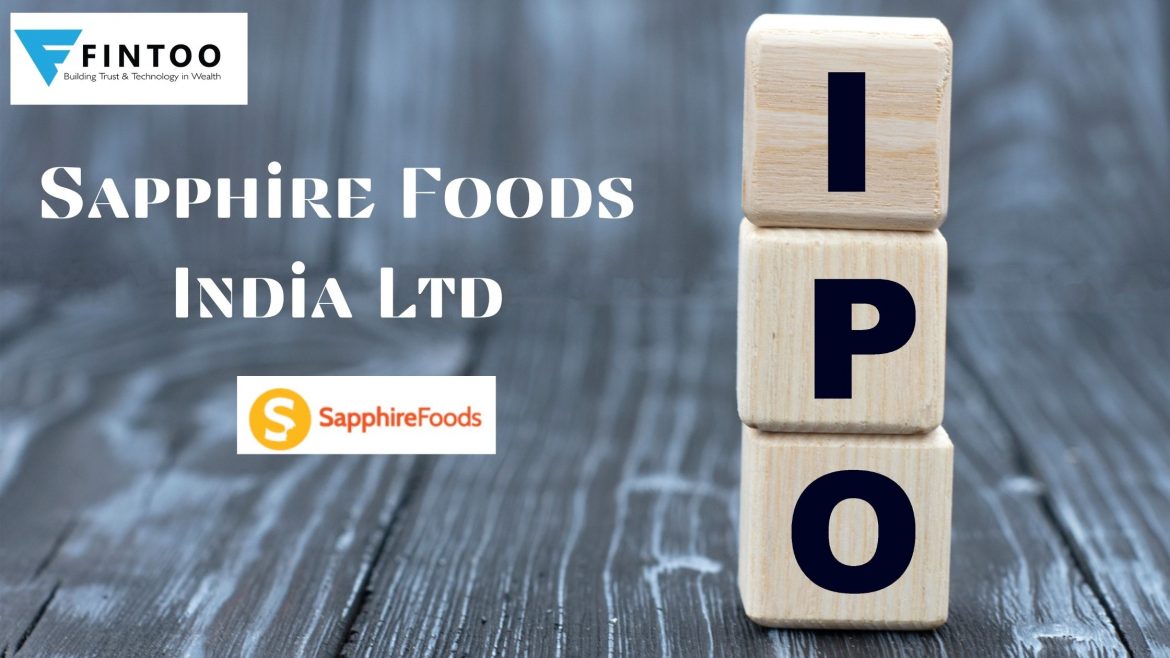 (Subscribe)
| | |
| --- | --- |
| Issue Size- 17,569,941 Shares | Issue Open/Close – Nov 09/Nov 11, 2021 |
| Price Band (Rs) 1120- 1180 | Issue Size- Rs 19.68- 20.73 bn |
| Face Value (Rs) 10 | Lot Size (shares) 12 |
Sapphire Foods is YUM's largest franchisee operator in the Indian subcontinent with revenue from operations of Rs 13.40 bn and Rs 10.19 bn for FY2020 and 2021, respectively. The Company's association with Yum started in 2015 and they presently have the non-exclusive rights to operate restaurants under 3 of YUM's leading brands, namely, the KFC, Pizza Hut and Taco Bell brands in the Territories.
The Company is also Sri Lanka's largest international QSR chain in terms of revenue for the financial year 2021 (with revenue of Rs 1.90 bn representing 35% of the total market revenue) and number of restaurants operated as of March 31, 2021 (with 68 restaurants representing 39 pct of the total number of outlets in the market). They have also established a presence in the Maldives. As of June 31, 2021, they owned and operated 209 KFC restaurants in India and the Maldives, 239 Pizza Hut restaurants in India, Sri Lanka and the Maldives, and 2 Taco Bell restaurants in Sri Lanka.
The company has an in-house supply chain function and works with vendor partners for food ingredients, packaging, warehousing, and logistics. They operate warehouses across 5 cities in India to service their restaurants in India. They have also adopted YUM's global online and digital channel solutions to enhance customer experience in both their physical and digital restaurants and achieve operating efficiency and financial controls within their organization. As of June 30, 2021, the company had 7,020 permanent employees and 36 consultants and contractual employees, a majority of whom work under the finance function. The company operates its restaurants at high traffic and high visibility locations in key metropolitan areas and cities across India and develop new restaurants in new cities as part of its expansion strategy.
On the financial performance front, the company has (on a consolidated basis) has posted turnover/net profit (loss) of Rs 10.81 bn/ Rs – (999 mn) for FY21. For Q1FY22, it has posted a net loss of Rs. – 264 mn. on a turnover of Rs 3.14 bn against loss of Rs. – 751.7 mn on a turnover of Rs 1.36 bn for Q1FY21.
Valuation
Sapphire Foods is one of India's largest restaurant franchisee operators and Sri Lanka's largest international QSR chain. YUM's is largest franchise operator in the Indian subcontinent in terms of revenue. The management hopes to break even its operations in the near term. The issue is pure OFS to provide an exit to some of its stakeholders. Jubilant FoodWorks, Westlife Development, Burger King and Devyani Intl., are stated as its listed peers as per the offer document. Since the Company is loss making, the PE cannot be ascertained. However, the direct peer Devyani Intl has turned profitable and the stock has seen an upmove. We advise cash surplus, risk takers to Subscribe to this issue only from a longer term perspective.  
Related Posts
Stay up-to-date with the latest information.