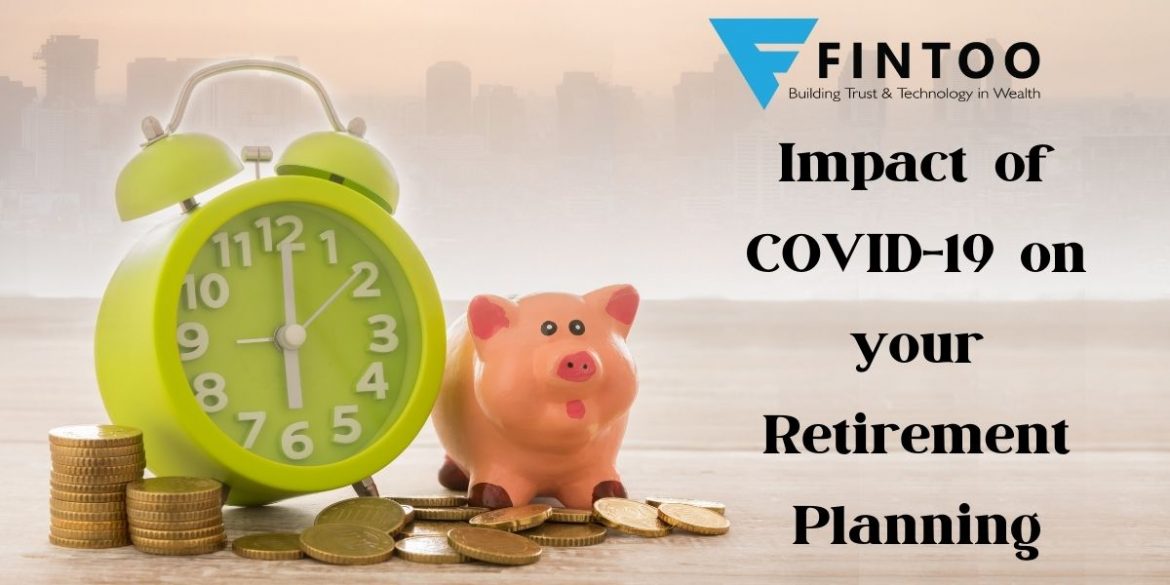 Coronavirus outbreak has impacted the entire world in more than one way. Every human being has felt the effects of covid-19, be it socially, financially or on health. COVID-19 cases crossed 19 lakhs globally and around 1.25 lakhs turned fatal. In India, the number of cases is in control but still has in 3 weeks crossed 11,000 mark from just 550. The growth in covid-19 cases is increasing exponentially.
With the extension of the lockdown in India till 3rd May 2020, the lives of many have come to a standstill. It is now up to us how we make better use of this time and keep ourselves mentally stable. The impact will be long term and therefore in this post, we will understand the impact of this pandemic on one of the long term goals i.e. Retirement.
Retirement planning is very crucial for every individual. The moment you start earning, you should start planning for your retirement. With people living longer, they need to plan well if they want to continue with the lifestyle they have before retirement. Let's see how this pandemic impacts your retirement planning and what you should be doing.
Are you already retired?
If yes, then either your retirement plan would have already been made or you are making adhoc withdrawals from your investments. For ones' who are retired, they must have some withdrawal strategy in place. Either, you are getting a pension from your employer, getting pension from annuity plans or an SWP strategy from your mutual funds. SWP is systematic withdrawal plan from mutual funds, where in a fixed amount can be withdrawn from your mutual fund investments and credited to your bank account. If you are using this strategy which is a good strategy to follow as it is tax friendly and provides good returns, it is time to review from which funds you should be withdrawing for coming 9 to 12 months. It is highly recommended that you consult a financial advisor for the same who will guide you basis your portfolio and your risk appetite.
Also, make sure that you write a will so that your assets are protected. Issue power of attorney to a confidante who can manage things on your behalf if you fall ill.
Are you planning to retire in next 12 years?
People falling under this category are still in the accumulation stage for their retirement. This means they are investing regularly to create a retirement corpus in the next 12 years. The important thing to note here is that no need to panic because of the current market volatility. You may see your retirement corpus falling in value but do not redeem your investments in the share market. As we have seen in the past, after every virus outbreak, the markets have regained within a year. So this is the time to show patience. And remember you have been investing for a long term goal so redeeming looking at short term volatility is not advisable. If we talk about debt investment options, interest rates have fallen. Let's have a quick look at it.
As you see lower interest rates, do not invest too much into these instruments as this will not help you to grow your wealth.
Another important point to note is that individuals should get rid of all loans before retirement so that it does not eat into the corpus. We understand that it might have become difficult for many to continue paying the EMIs amid COVID 19 because of pay cut or job loss or business losses. But it is strongly recommended that you give this the first priority to continue your EMIs. Try reducing unwanted expenses at this crucial time to keep afloat with your EMI payments.
Is your retirement more than 12 years away from now?
You have enough time in hand and in fact, you should be looking at the current market as an opportunity to invest more to create your retirement corpus. Always remember, early you start, the better it is. As you need to invest small amounts which doesn't hurt your pocket much owing to your other commitments. All in all, retirement planning is a long process. When you are young, your risk-taking capacity is high, which allows you to earn a higher rate of return. This is the time when you can start building a corpus for life after retirement. So for people in this stage, it is suggested that you invest more looking at the very sharp correction in the market.
I would also like to say whatever stage you are at, it is imperative to keep a contingency fund in place. Every retirement plan is incomplete without making provisions for contingencies. So make sure you have at least an amount equal to 8-10 months of your expenses as an emergency fund. You can park this money in Liquid Mutual Funds.
I hope that all your queries related to your retirement planning is answered here. I would further suggest you to get in touch with a financial advisor to get your retirement plan back on track in this current pandemic situation.
A financial planning platform where you can plan all your goals, cash flows, expenses management, etc., which provides you advisory on the go. Unbiased and with uttermost data security, create your Financial Planning without any cost on: http://bit.ly/Robo-Fintoo
To Invest and keep regular track of your portfolio download: Fintoo App Android http://bit.ly/2TPeIgX / Fintoo App iOS http://apple.co/2Nt75LP'
Disclaimer: The views shared in blogs are based on personal opinion and does not endorse the company's views. Investment is a subject matter of solicitation and one should consult a Financial Adviser before making any investment using the app. Making an investment using the app is the sole decision of the investor and the company or any of its communication cannot be held responsible for it.
Related Posts
Stay up-to-date with the latest information.