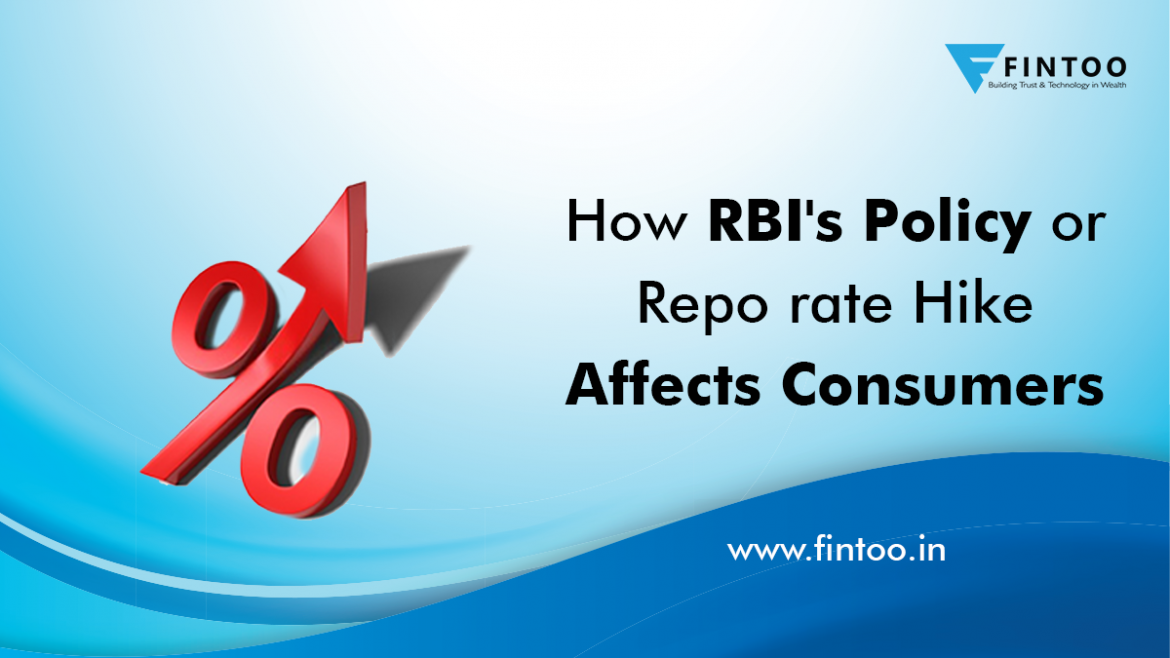 The Reserve Bank of India (RBI) in an attempt to tame inflation has started a rate hike cycle.
The current inflation in the country has been well above the inflation target of the country. RBI in an attempt to control the surging inflation has started a rate hike cycle.
Since the start of the year, RBI has increased the interest rates twice, – April 2022 & June 2022 – taking the repo rates from 4.00% to 4.9%. Here is a brief history of RBI rate hikes:
| | |
| --- | --- |
| Updated On | Repo Rate |
| 8 June 2020 | 4.90% |
| 4 May 2020 | 4.40% |
| 22 May 2020 | 4.00% |
| 27 March 2020 | 4.40% |
| 04 October 2019 | 5.15% |
| 07 August 2019 | 5.40% |
| 06 June 2019 | 5.75% |
| 04 April 2019 | 6% |
| 07 February 2019 | 6.25% |
How Does RBI Policy Rate Impact Consumers
Retail loans are mostly linked to the repo rate, hence any increase in repo rates translates into an increase in all loans linked to it.
An increase in rates sucks out liquidity from the market. This makes it difficult for retail borrowers to access money easily.
At the same time, there is another important parameter called Cash Reserve Ratio (CRR) which is responsible for determining the borrowing costs of banks.
When CRR goes up, and borrowing becomes expensive in the private market, banks raise interest rates in order to make FD a lucrative option for retail investors and attract low-cost capital.
Are further rate hikes expected?
Yes. RBI is expected to increase the rate hike by 35 bps. This comes after a 40 and 50 bps increase in earlier policies. This signifies that the RBI is no longer going to do an outsized increase in rates, but a more data-dependent and based on global inflationary trends. 
A financial planning platform where you can plan all your goals, cash flows, expenses management, etc., which provides you advisory on the go. Unbiased and with uttermost data security, create your Financial Planning at Rs. 99/-
Disclaimer: The views shared in blogs are based on personal opinions and do not endorse the company's views. Investment is a subject matter of solicitation and one should consult a Financial Adviser before making any investment using the app. Making an investment using the app is the sole decision of the investor and the company or any of its communication cannot be held responsible for it.