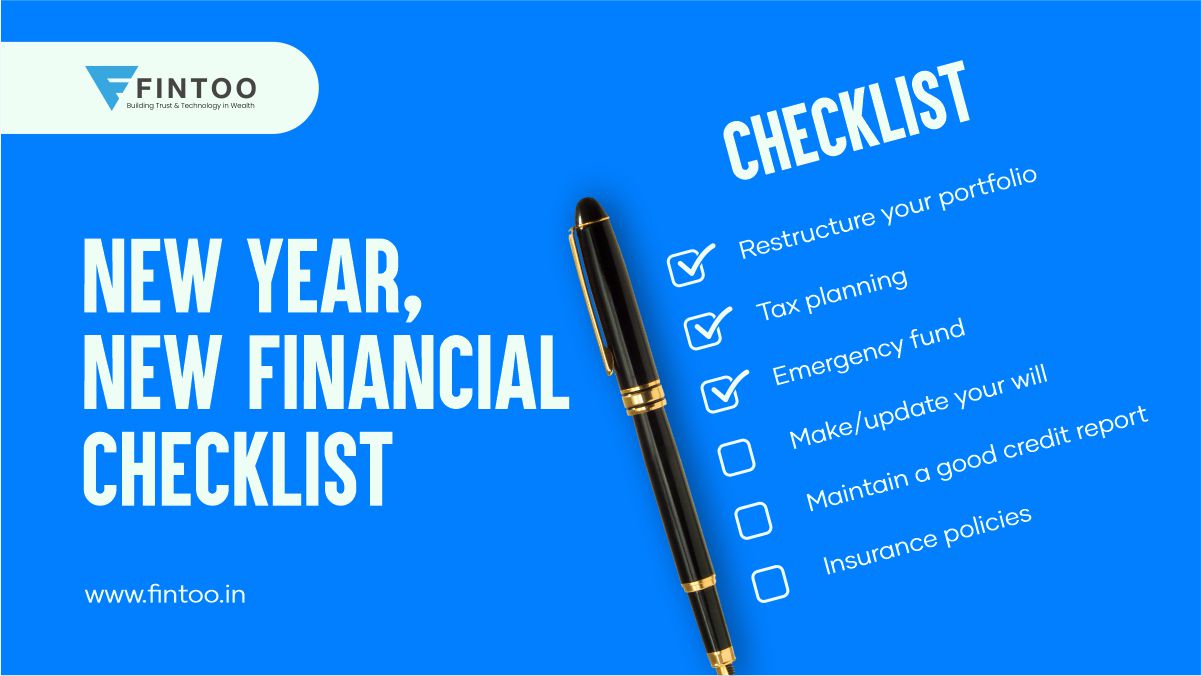 As we clink our glasses and countdown our way into 2023, it is also important that we dwell upon the past year and all the financial lessons it has taught us. While you might have already decided on a set of goals that you wish to achieve, it is time to revisit your financial plans and make sure they are in sync with your short-term and long-term desires.
We have prepared a financial checklist to ensure that your new year starts off on the right note. Make sure to include these points in your financial plan in order to complete all the goals from your 2023 wish list.
Restructure your portfolio
Your portfolio needs to be maintained in such a way that it caters to your current needs as well as your expected future lifestyle. However, goals are never 100% stable. Different factors play a crucial role in determining how we envision ourselves on the financial parameter. The most prominent example we can consider is the Covid-19 pandemic.
As people started losing their jobs or had to take care of sudden medical needs, their financial priorities shifted. Similarly, economic factors like inflation, recession, volatility of the market, geo-political tensions, etc., can also play a significant role in changing your financial preferences. Or, you could simply change your mind regarding your previous plans.
As we approach a new year, it is necessary to reassess your investments and take a different route if needed. You can diversify your risk across various asset classes or switch from an underperforming asset to a better-performing one. Additionally, the sooner you start with your retirement planning, the better. After working hard throughout your life, you deserve a comfortable life. So, if you haven't done it yet, make sure to curate a reliable plan in order to financially secure your retired life and accomplish your post-retirement goals.
Tax planning
Making a few tax-saving investments could allow you to claim certain deductions. However, these investments need to be planned in advance. If you postpone this until the last moment, it could lead to availing insufficient benefits. So, start your new year by managing your taxes and making the right tax-saving investments at the right time in order to reap adequate benefits. You could also consult a tax expert to learn how to minimize your tax liabilities. Nevertheless, in case you already have a tax plan, make sure to review and update it.
Emergency fund
One of the most important thing that you need to keep in mind is that an emergency fund is not the same as insurance. So, even though you might have an insurance coverage, it does not mean you can disregard the concept of an emergency fund. This fund is only to be used for an unpredictable situation where you are in dire need of money that you cannot claim under any insurance.
Maintaining an emergency fund makes money more accessible. With the presence of an emergency fund, your investments will remain in place as you won't have to withdraw money from your savings and investments.
Ideally, it is suggested to save up to 6 months of your expenses in an emergency fund. But you can also set aside more money if you feel the need to do so. Additionally, as your income increases, make sure to increase your emergency fund.
Make/update your will
You spend your whole life trying to save sufficient money for yourself and your loved ones. So, it becomes essential to protect it from any future legal issues. Drafting a will is important as you can ensure that all your assets get distributed according to your wish.
However, if you already have a will, remember to update your beneficiaries from time to time, especially if some major changes have occurred in your life. For instance, if you get married or have kids, you will have to update your will and divide your assets among your beneficiaries accordingly.
Maintain a good credit report
There could be many instances where you might feel the need to apply for a loan. Be it an educational loan, a loan to buy a house, for your business venture, etc. However, lenders first check the borrower's credit standing before lending money or a credit card.
A CIBIL score or credit score is a 3-digit number that dictates your creditworthiness. It is calculated based on the history of your debt repayments and a few other factors. If you have a good credit score, you can avail some profitable offers like faster approvals on your application, lower interest rates, higher credit limit, or even a pre-approved loan offer.
However, if you have a bad credit score, you can be deprived of these offers and may be liable to pay higher interest rates. As a result, it is crucial to try and maintain a credit score of at least 750 or above.
So, try to maintain a high credit score, as it can equip you to manage emergencies without majorly disrupting your financial portfolio.
Insurance policies
Having an insurance policy is undoubtedly a necessity for every individual. Always have a personal health insurance cover separate from the one that your employer might have given you. Refrain from relying on your employer's health insurance plan as it is usually a group health cover. Additionally, the benefits can lapse if you cease to work at that organization or switch your job.
Protect yourself and your loved ones from any uncertainties by purchasing a good insurance plan. You can also opt for a family floater cover for you and your other family members and protect your family's health-related needs. This will safeguard your financial plans during difficult times.
Read all the terms and conditions before purchasing a plan, and make sure that it covers all your medical needs.
Conclusion
While we have laid out a structure of all the vital financial aspects you need to prioritize for 2023, it all boils down to your lifestyle, preferences, and goals. As you set new financial goals for yourself, make sure that even though they might be challenging, they shouldn't be unrealistic. Having practical and attainable goals will motivate you to keep improving your standard of living one step at a time.
Apart from that, you also must be committed to regularly evaluating your investment strategies. This will help you to never miss out on any better revenue-generating opportunities, and you can make any feasible changes whenever required. We hope that with the right financial management, this new year will bring you growth and prosperity.
Wishing you a happy and responsible new year 2023.
Disclaimer: The views expressed in the blog are purely based on our research and personal opinion. Although we do not condone misinformation, we do not intend to be regarded as a source of advice or guarantee. Kindly consult an expert before making any decision based on the insights we have provided.
Related Posts
Stay up-to-date with the latest information.