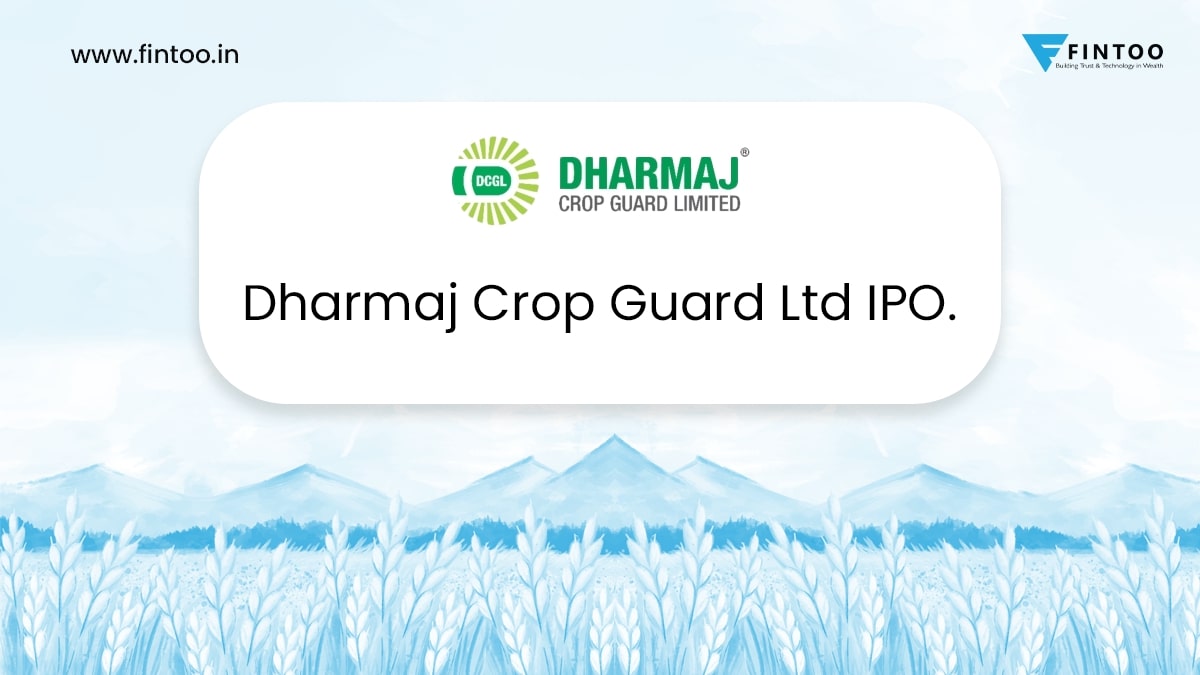 | | |
| --- | --- |
| Issue Size – 10.59-11.48 shares | Issue Open/Close – Nov 28/Nov 30, 2022 |
| Price Band (Rs.) 216-237 | Issue Size- Rs 2.48-2.51 bn |
| Face Value (Rs) 10 | Lot Size (shares) 60 |
Dharmaj Crop Guard Limited (DCGL), an agrochemical company, is engaged in manufacturing, distributing, and marketing a wide range of agrochemicals such as insecticides, fungicides, herbicides, plant growth regulators, micro fertilizers, and antibiotics to B2C and B2B customers. Dharmaj Crop Guard Ltd markets and distributes its own branded agrochemical products, the ones in-licensed by them and other generic brands to Indian farmers.
For its domestic branded business, it has a well-established distribution network that comprises over 4,362 dealers are having access to 16 stock depots, and has a presence in 17 states. On the global front, Dharmaj Crop Guard Ltd has extended its export reach to more than 25 countries in Latin America, East African countries, the Middle East, and Far East Asia.
Presently, Dharmaj Crop Guard Ltd has one manufacturing facility in Gujarat, with an aggregate installed capacity of 25,500 MT for its agrochemical formulations. As a part of its expansion plan and to achieve backward integration of its operations, DCGL has acquired additional land in Gujarat where it plans to set up a manufacturing facility for agrochemical technicals and its intermediaries in the future.
Key Highlights
• A well-diversified product portfolio mix- Since its incorporation, DCGL has focused on diversifying its product portfolio mix and is a manufacturer of agrochemical products in various categories such as insecticides, fungicides, herbicides, plant growth regulators, micro fertilizers, and antibiotics. Additionally, Dharmaj Crop Guard Ltd is involved in manufacturing and selling general insect and pest control chemicals for Public Health and Animal Health protection. Thus, the company's move to develop a niche and diversified product portfolio of agrochemicals has enabled it to de-risk business operations.
• Strong domestic and global pesticides demand – Indian pesticides and other agrochemicals market grew at a CAGR of 4.5 pct from Rs 368 bn in 2013- 14 to Rs 439 bn in 2017-18. From now on, the overall Indian pesticides and other agrochemicals industry is estimated to increase at a CAGR of 7.5-8.5 pct by 2026-27.
Additionally, an opportunity amounting to around USD 5 bn going off-patent in pesticides in 2026-27 provides ample room for Indian manufacturers to increase their pesticide exports Strong R&D capabilities with a focus on innovation and sustainability- Dharmaj Crop Guard Ltd has an R&D center at its manufacturing facility.
They also have a quality control 157 laboratories at their manufacturing facility, which primarily monitors the quality of its raw materials and finished goods. Dharmaj Crop Guard Ltd has been able to diversify its product range mainly due to its technological capabilities. The strong R&D capabilities allow them to discover new mixtures and register new formulations for their agrochemical business.
Further research areas are guided by the advancement of new technologies based on customer needs, technology, and regulatory requirements.
Key Risks
Unfavorable government policies & regulations
Business seasonality
Unfavorable product mix
Delayed commissioning of the proposed facility
Competition
Valuation:
At a higher price band, DCGL is demanding a P/E of 14.55x based on annualized FY23 earnings which appear to be reasonably priced. Considering the growth outlook and its ability to expand the profitability margin post the commissioning of the agrochemical technical facility (around H2FY24), one can Subscribe from a longer-term perspective
A financial planning platform where you can plan all your goals, cash flows, expenses management, etc., which provides you advisory on the go. Unbiased and with uttermost data security, create your Financial Planning at Rs. 99/-
Disclaimer: The views shared in blogs are based on personal opinions and do not endorse the company's views. Investment is a subject matter of solicitation and one should consult a Financial Adviser before making any investment using the app. Making an investment using the app is the investor's sole decision, and the company or any of its communication cannot be held responsible for it.
Related Posts
Stay up-to-date with the latest information.