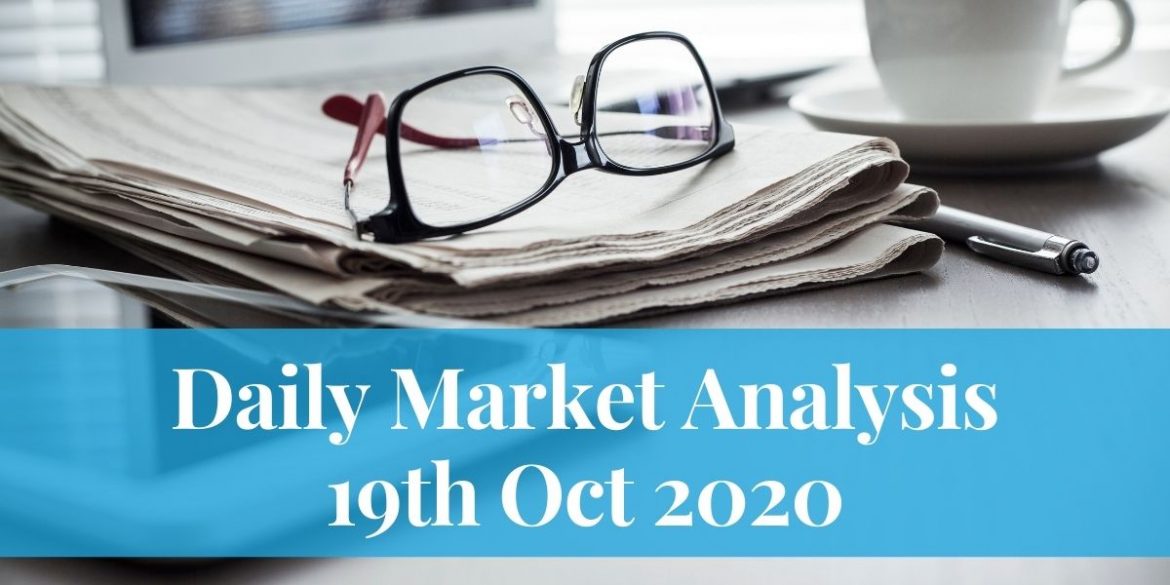 The Asian markets have started at a higher note on Monday, on the hopes of a US fiscal package before the US presidential elections in November 2020, and expectations of a coronavirus vaccine by the end of this year. Boosting the overall sentiment, drug maker Pfizer Inc said on Friday it could have a coronavirus vaccine ready in the United States by the end of this year. In the global markets, the MSCI's broadest index of Asia-Pacific shares outside Japan added 0.26 percent for its second straight day of gains. While Japan's Nikkei and Australia's benchmark index each were up by 1.1 per cent.
The overall sentiment has still been cautious as infections have jumped up considerably.
China's Economic Indicator data and GDP Growth in September released today
The Chinese macro data on Industrial output, retail sales and GDP growth data has been released today by the National Bureau of Statistics. China's industrial production increased by 6.9 % year-on-year in September 2020, accelerating from 5.6% recorded in August 2020, which indicates sixth straight month of growth in industrial output, amid pandemic recovery period.
While its Industrial capacity Utilization rate has also increased to 76.7% in the third quarter of 2020 against 76.4% year-on-year in 2019 in the same period. The retail sales edged up 3.3% last month from a year earlier against expectations for 1.8% growth. However, China's gross domestic product (GDP) grew 4.9% in July-September from a year earlier, slower than the median forecast of 5.2%.
On a quarter-on-quarter basis, GDP rose 2.7% in July-September, against the expectations for a 3.2% Q-o-Q rise and an 11.5% rise recorded in the previous quarter. The data highlights that the Chinese economy grew 0.7% the first nine months from a year ago.
Tech Mahindra signs agreement to form joint venture with Sumitomo Corp
The IT company, Tech Mahindra has signed an agreement with Japan-based Sumitomo Corporation for setting up a joint venture to provide engineering service to the automotive sector on 16th October 2020. Both the companies will hold an equal stake in the joint venture. Each of the joint venture partners will initially subscribe to 2,000 ordinary shares and contribute around 7.0 Crores towards capital.
Japan is a strategic market for Tech Mahindra and the company has strategically partnered with a globally diversified group like Sumitomo Corporation. Though currently, the joint venture is subject to regulatory filings and approvals.
Adani Group, Piramal among 4 bidders for DHFL
Adani Group, Piramal Enterprises, the US-based AMC Oaktree Capital Management and Hong Kong-based SC Lowy are the four entities that have placed bids for DHFL, the first financial services player undergoing insolvency process as they were refereed by the RBI to the NCLT.
According to the sources, Oaktree has submitted bid for the entire company and the bid value is ₹20,000 crore as against the admitted liability of ₹95,000 crore with ₹10,000 crore cash in hand, and if accepted, would result in a write-off of ₹65,000 crore for the lenders led by State Bank of India (SBI). While, Adani Group has bid for DHFL's ₹40,000 crore wholesale and Slum Rehabilitation Authority (SRA) portfolio, valuing it at ₹3,000 crore; and Piramal Enterprises has bid for DHFL's retail portfolio, quoted at ₹12,000 crore for the business and 18 per cent yield on this portfolio. According to sources, the bid of SC Lowy, the fourth bidder, comes with so many conditions that it is unlikely to be considered.
These suggest that DHFL through NCLT could result in a massive write-off for the lenders and they could be stuck with huge NPAs.
Also read: 3 Money Ratios that can help manage your finances
Franklin Templeton MF's six shut schemes generate  ₹8,302 Crore since closure
Franklin Templeton Mutual Fund has said its six shut schemes have received ₹8,302 crore as of October 15, 2020 from maturities, pre-payments and coupon payments since closing down in April citing redemption pressures and lack of liquidity in the bond market. As per the fund house, part of this amount has been utilised to repay borrowings and post repayment, ₹5,116 crore is available for distribution to unitholders in four cash positive schemes – Franklin India Ultra Short Bond Fund, Franklin India Dynamic Accrual Fund, Franklin India Low Duration Fund, Franklin India Credit Risk Fund, subject to fund running expenses, and subject to a successful unitholder vote.
The fund house reiterated that the cash flows received so far are without the ability to efficiently monetize assets, which will only be possible after successfully completing the e-voting process. The court has completed hearing the arguments on matters related to the six schemes under winding-up and the fund house is now awaiting the judgement from the court.
The recent developments in shut schemes of Franklin Templeton Mutual Fund could bring in huge relief for the investors of these schemes.
Ola to set up new technology centre in Pune, hiring 1,000 engineers
Ride hailing platform Ola plans to set up a new technology centre in Pune and hire about 1,000 engineers over the next three years. According to sources, this Pune facility which would be operational by the end of this quarter would provide jobs for 1,000 skilled technology professionals over the next three years, as Pune is well-known for its tech talent and IT infrastructure, making it a favoured destination for many tech-led companies.
The tech centre in Pune will be the second such centre for the company in India after Bengaluru, and will cater to global and local solutions for all businesses of Ola across the group. This is a notable development for the company as well as the economy which provides signs of normalcy coming back to pre-Covid levels, as these hirings come just months after Ola had announced job cuts of around 1,400 staff from its rides, financial services and food businesses after their business was impacted by the COVID-19 pandemic.
With gradual unlocking of cities and businesses and a number of regulatory and precautionary measures taken by the company, their businesses are now returning to normalcy.
Avenue Supermart (DMart) Q2 takeaways:
Avenue Supermart's (DMart) September quarter numbers suggest that while the demand for the company's FMCG segment has recovered smartly in successive months, it would still take some time before the non-FMCG demand reaches their pre-Covid levels. The footfall at DMart stores have seen a month over month recovery, but they continue to remain significantly lower than pre-Covid levels, inspite of most of its stores operated at pre-Covid operating hours.
Overall sales numbers have been improving consistently since July 2020. General merchandise and apparel business contributed 22.7 per cent to the total revenues of the company in September compared with the yearly contribution of 27.3 per cent, owing to the tightened discretionary spend by consumers. Also, DMart has increased its footprint in Pune and opened six stores during the quarter and added more pin codes in these regions to its E-Commerce business, while it has closed two of its Mumbai stores (Mira Road and Kalyan stores) and converted them into Fulfillment centers (FC) for its e-commerce business.
Also, DMart Ready revenues have more than doubled from Rs 42 crore to Rs 88 crore. Overall, the monthly business progression continues to recover month-on-month for the company with lower footfalls getting offset by higher basket values, which continues to normalise at a good pace.
A financial planning platform where you can plan all your goals, cash flows, expenses management, etc., which provides you advisory on the go. Unbiased and with uttermost data security, create your Financial Planning without any cost on: http://bit.ly/Robo-Fintoo
To Invest and keep regular track of your portfolio download: Fintoo App Android http://bit.ly/2TPeIgX / Fintoo App iOS http://apple.co/2Nt75LP'
Disclaimer: The views shared in blogs are based on personal opinion and does not endorse the company's views. Investment is a subject matter of solicitation and one should consult a Financial Adviser before making any investment using the app. Making an investment using the app is the sole decision of the investor and the company or any of its communication cannot be held responsible for it.
Related Posts
Stay up-to-date with the latest information.