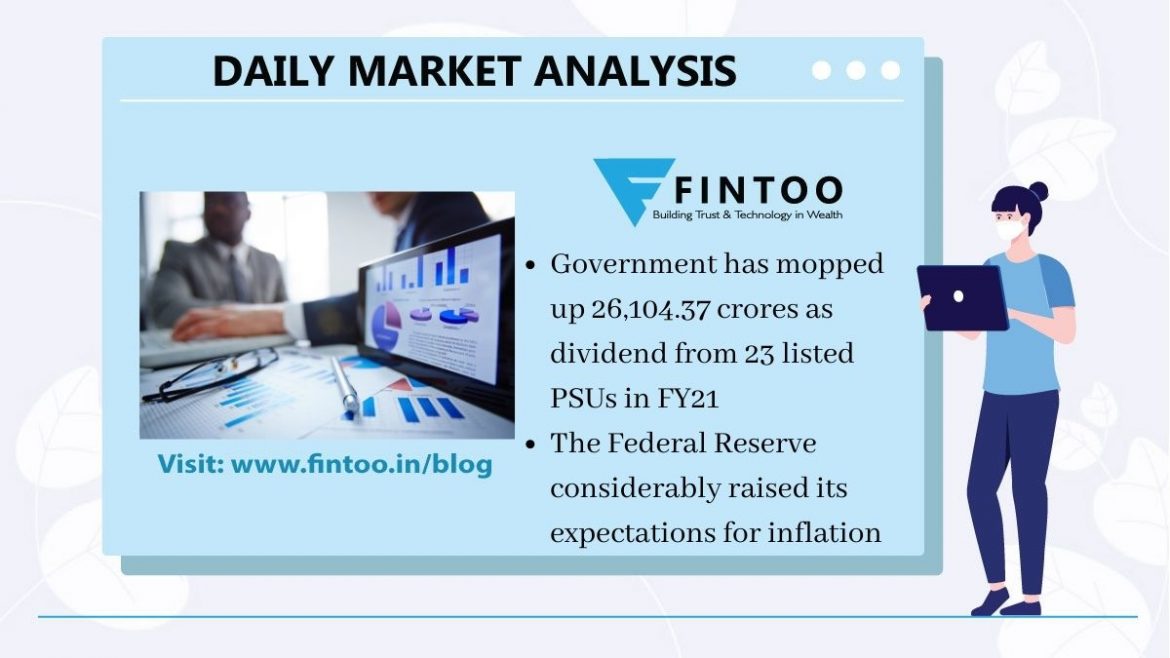 1. The government has mopped up 26,104.37 crores as dividend from 23 listed PSUs in FY21 so far, a 123.63% increase over the previous fiscal year, bringing welcome relief to a treasury that has taken a massive hit from two waves of the coronavirus pandemic. Bharat Petroleum Corp. Ltd (BPCL) leads the largest dividend-paying companies for the fiscal year 2021 with a dividend of ₹8,759.71 crores to the government followed by Coal India Ltd (6,520.66 crores), Indian Oil Corp. (5,817.95 crores), State Bank of India (2,031.95 crores) and GAIL India (1,142.29 crores).
According to Jasani, the guidelines issued by the department of investment and public asset management (Dipam) in 2016 that every PSU would pay a minimum annual dividend of 30% of profit after tax or 5% of the net worth, whichever is higher, will push PSUs to declare higher amounts as dividends.
Dividends from PSUs have been used by governments in successive years to raise revenues and bridge the fiscal gap that would have arisen due to various reasons including a shortfall in divestment revenues.
2. The Union Cabinet is set to take up a proposal to permit 100 percent foreign direct investment (FDI) in state-owned oil refiners to clear the regulatory path for the privatization of Bharat Petroleum Corporation Ltd (BPCL), according to government officials. The divestment of the Centre's 53 percent stake in BPCL is a key part of the former's disinvestment target of Rs 1.75 lakh crore for FY22.
3. TPG-backed Dodla Dairy intends to raise Rs 520.17 crore at the higher end of the price band of Rs 421-428 per equity share. The IPO comprises a fresh issue of Rs 50 crore and an offer for sale of up to 1,09,85,444 equity shares by TPG Dodla Dairy Holdings Pte Ltd and promoters.
Dodla Dairy is an integrated dairy company based in south India. Its primary source of revenue is the sale of milk and dairy-based value-added products (VAPs) in the branded consumer market. Amongst private dairy players with a significant presence in the southern region of India, it is the third-highest in terms of milk procurement per day and second highest in terms of market presence across India among private dairy players.
Dodla Dairy has delivered consistent growth over the last three financial years both in terms of financial and operational metrics. Its revenue from operations, EBITDA and profit after tax for nine months period ended December 2020 were Rs 1,413.5 crore, Rs 206.5 crore and Rs 116.38 crore respectively.
The initial public offering has been subscribed 1.40 times on June 16, the first day of bidding. Dodla Dairy has a good potential for the future and is also available at a reasonable valuation compared to its peers.
Also read: Wealth Habits – Learn, Unlearn and Relearn – Fintoo Blog
4. The Federal Reserve on Wednesday considerably raised its expectations for inflation this year and brought forward the time frame on when it will next raise interest rates.
US FED MEDIAN PROJECTIONS SHOW TWO RATE INCREASES BY END-2023. INFLATION IS EXPECTED TO BE 3.4% IN 2021 (PREVIOUSLY 2.4%), 2.1% IN 2022, AND 2.2% IN 2023,
US INTEREST RATE DECISION ACTUAL 0.25% (FORECAST 0.25%, PREVIOUS 0.25%). RATES ARE EXPECTED TO REMAIN UNCHANGED UNTIL 2021, ACCORDING TO ALL FED OFFICIALS.
The FED Predicts GDP expectations for this year to 7% from 6.5%, 3.3% IN 2022, AND 2.4% IN 2023, WITH A MEDIAN LONG-RUN PROJECTION OF 1.8% (PREVIOUSLY 1.8%). The unemployment estimate remained unchanged at 4.5%
FED LEAVES ITS BENCHMARK RATE UNCHANGED AND CONTINUES TO PURCHASE $120 BILLION IN BONDS. However, the central bank gave no indication as to when it will begin cutting back on its aggressive bond-buying program
A financial planning platform where you can plan all your goals, cash flows, expenses management, etc., which provides you advisory on the go. Unbiased and with uttermost data security, create your Financial Planning without any cost on: http://bit.ly/Robo-Fintoo
To Invest and keep regular track of your portfolio download: Fintoo App Android http://bit.ly/2TPeIgX / Fintoo App iOS http://apple.co/2Nt75LP
Related Posts
Stay up-to-date with the latest information.