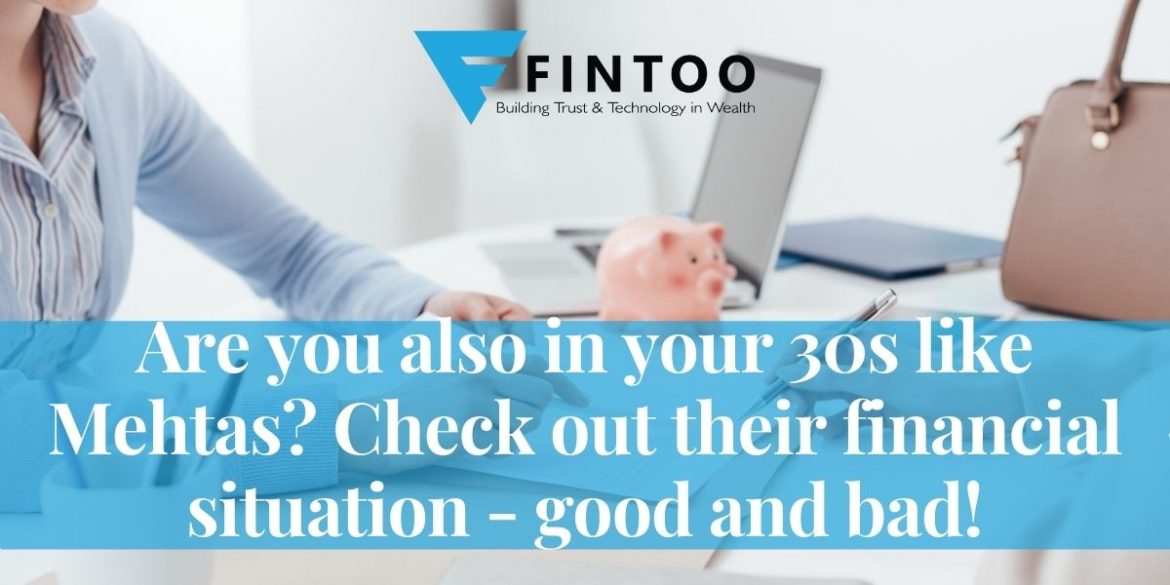 Financial planning is so crucial and is different for every individual. It differs based on the age of a person, his risk appetite, his current investments and the most important factor – his goals.
Keeping this in mind that "No one financial plan fits all", today in this blog we will be discussing a case study of Mehta and family (Name changed) to help you get an idea of how to plan your finances. Check this out and see if you relate to Mr. Mehta.
Case study
Mr. Mehta is 35 years young man and is married to Jyoti who is now 33. They both have a son, Ansh. He just turned 2. They are living a comfortable life in a small apartment of his own in a good locality.
Let us have a look at his financials now.
Mehta's Personal Financials
His current annual income (net in hand) is Rs. 10.80 lakhs, which is Rs. 90,000 per month after taxes. His family household monthly expenses are nearly Rs. 70,000. He invests Rs. 15,000 per month, and saves Rs. 5,000 per month. He expects his salary to grow at 10% per year from next year onwards.
Jyoti, on the other hand is a home maker and hence is not earning any salary. However, she does baking at home and sell her cakes in the society itself. This brings in around 10,000 on a monthly basis to her.
Mehta's have a family floater medical insurance that covers them and for this, he pays Rs. 12,000 per year. His company also provide medical insurance but he doesn't know much about it. Apart from this, he has no other insurance. His accumulated EPF is Rs. 1,00,000 and he invests Rs. 1800 per month into his EPF, which his employer matches.
Assets and Liabilities
We will now try to have a better understanding of his assets and liabilities.
He has a PPF account where he invests Rs. 70,000 per year and wants to continue doing so. The current value in the account is Rs. 11 lakhs. Mr. Mehta has equity mutual funds worth approximately Rs. 5.50 lakhs, and direct equity of Rs. 2.50 lakhs. He has liquid funds worth Rs. 85,000. He has no gold exposure. His residential home is worth Rs. 2 crores.
Must Read: Top Secrets Of Having An Effective Financial Planning
Mehta's Goal
Buying a bigger house is what Mr. Mehta looks forward to. This will cost around 3 crores. He wants to achieve it as early as possible by taking loans.
Mehta's want to plan for their Son's education. They are clueless about the cost as of now. However, they provide a rough estimate of spending 15 lakhs when he turns 18.
Goal of an international vacation is on their minds. But this is not immediate and also low on priority.
Mr. Mehta would also like to know how to plan his retirement considering he will be spending around 40,000 per month in current terms post retirement.
Good Moves of Mr. Mehta
No liabilities
Bought a Health Insurance Plan
Saving and investing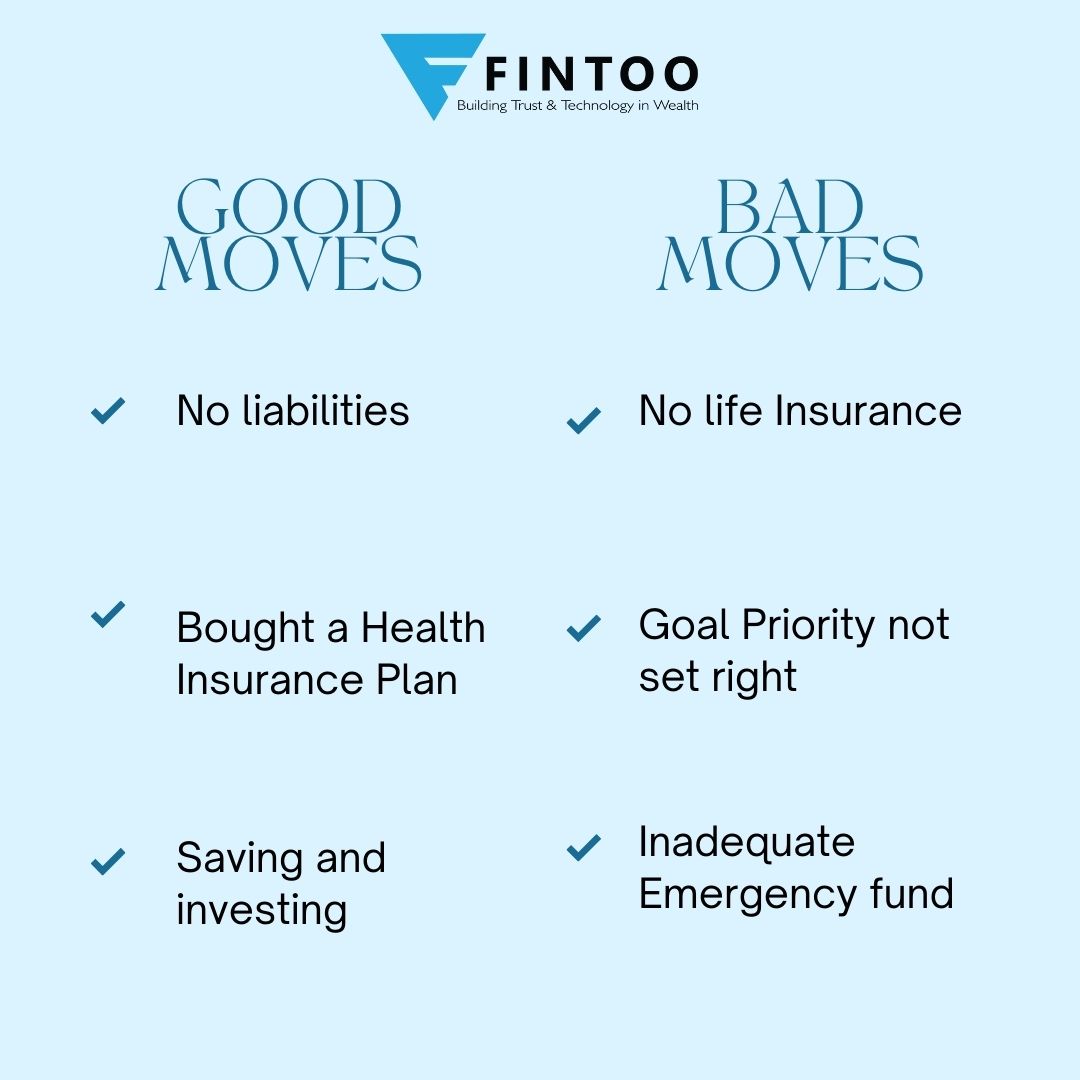 Bad Moves of Mr. Mehta
No life Insurance
Goal Priority not set right
Inadequate Emergency fund
Recommendations
First Thing first, we see here Mr. Mehta doesn't have a designated emergency fund to fall back on in case of any emergency. Thus it is suggested that his first priority should be to create an emergency fund. Ideally, he should have atleast 6 months of his monthly expenses as a contingency fund which comes to 4,20,000 (70,000*6). He already has 85,000 in liquid fund, the balance he needs to create. He can do this by doing a monthly SIP of Rs.12000 in a combination of liquid fund and short term fund. Mr. Mehta should continue this till he achieves his target. Any windfall should also be part of this to achieve this fast.
Secondly, Mr. Mehta should ask the HR of his company about details of the coverage provided by employer. Having knowledge of what benefits you have is of utmost importance. Although, it is not suggested to solely depend on the health coverage provided by the employer. Mr. Mehta has done a great job in taking a separate health insurance policy to protect his family. It is further suggested to invest in a critical illness plan for him and his wife. It will cost only around 1000 on a monthly basis.
Life insurance is crucial for Mr. Mehta as he has 2 dependants –his spouse and his son. It is strongly recommended that he invest in a Term plan of around 1.5 crores to adequately insure his family. The term plan is cost effective and best way to provide ideal protection for your loved ones. A term plan for his age will cost him approximately 1250/- on a monthly basis.
Buying a house immediately is not feasible as it will be only possible by selling his existing house and taking a huge loan of approx. 1 crore which is not feasible at the moment. His priority should be to start creating a corpus for retirement and son's education.
His existing equity investments i.e. Equity Mutual fund and direct equity should be mapped to the goal of Son's education. Additionally, an SIP of Rs.5000 in an equity mutual fund should start on an immediate basis. As this is a long term goal, starting early will reward Mr. Mehta with a power of compounding.
Retirement planning is an unavoidable goal. Mr. Mehta should know that he would require a corpus of around Rs. 3.5 crores at the age of 60 to maintain the same standard of living that he can maintain today in 40,000 per month. In order to achieve this, he can map his PPF & EPF investments and start an SIP of Rs. 8500 in an Equity mutual fund. As this goal is 25 years away, equity mutual fund will be the optimum investment avenue.
It is further suggested that once the emergency fund is in place, the same amount of 12000 should be redirected towards creating a corpus for house in a debt or balanced mutual fund depending upon review. This goal can be revisited after 1 or 2 years.
Mrs. Mehta can also start saving some amount from her growing baking business in Gold ETF to have some exposure to gold.
Taking all these steps will make sure that the Mehta and family are on the right track to achieve their goals. It is important to note that financial planning is not a one-time activity and it needs to be reviewed annually. I hope you got some clarity as to how you can do your own financial planning. Alternatively, you can get in touch with a financial planner who will guide you in this whole process.
A financial planning platform where you can plan all your goals, cash flows, expenses management, etc., which provides you advisory on the go. Unbiased and with uttermost data security, create your Financial Planning without any cost on: http://bit.ly/Robo-Fintoo
To Invest and keep regular track of your portfolio download: Fintoo App Android http://bit.ly/2TPeIgX / Fintoo App iOS http://apple.co/2Nt75LP'
Disclaimer: The views shared in blogs are based on personal opinion and does not endorse the company's views. Investment is a subject matter of solicitation and one should consult a Financial Adviser before making any investment using the app. Making an investment using the app is the sole decision of the investor and the company or any of its communication cannot be held responsible for it.
Related Posts
Stay up-to-date with the latest information.