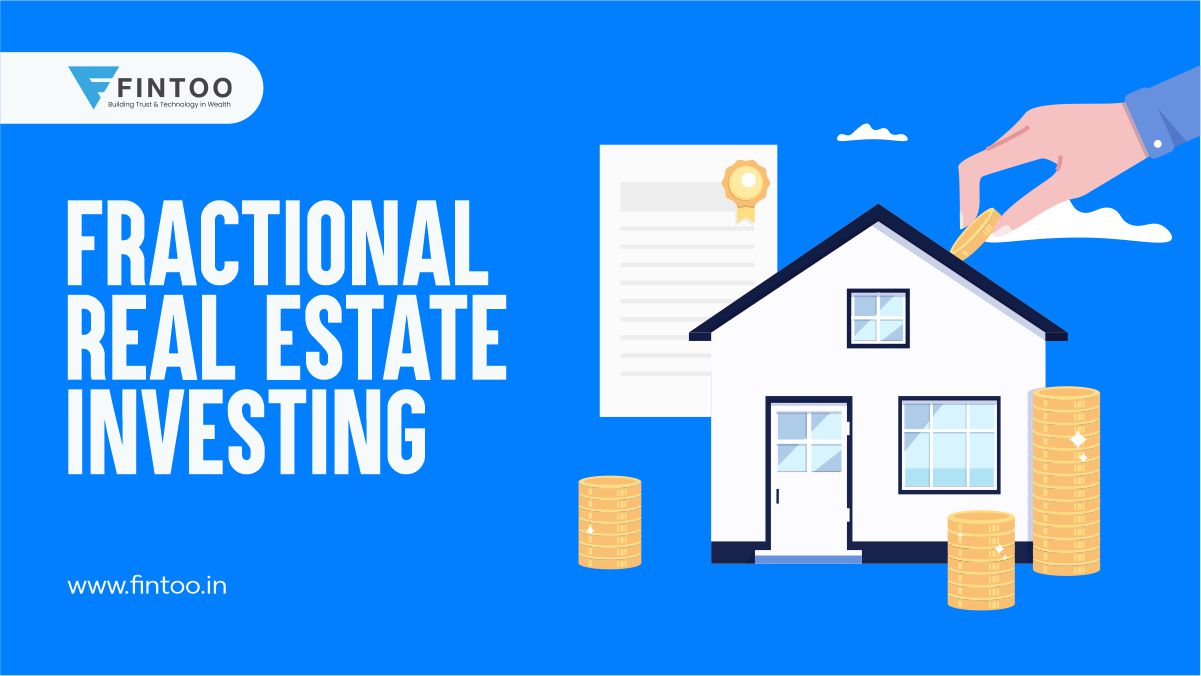 With each passing day, as we are getting closer to hitting a possible global recession, many investors remain clueless about the appropriate approach they must take with regards to their investment strategies. As the problem of inflation has been causing a ruckus for every common man's budgeting plan of action, the concept of new investments seems beyond reach.
Even though a large portion of the market is drastically affected by the waves of a global economic slowdown, there are a few industries that still continue to thrive. This may be because of the necessity factor or the demand and supply forces. Real estate is one such sector that still manages to have a relatively stronger stand in the market. But how do people with a limited corpus especially during times like these manage to invest in real estate? Well, the alternative is fraction real estate investing.
Real estate investing involves the acquisition, ownership, management, and disposal of real estate properties for the purpose of generating a profit. This can be accomplished through various strategies, such as buying and holding rental properties, flipping houses, or developing commercial properties.
There are many factors to consider when deciding whether or not to invest in real estate, including the location of the property, the condition of the property, the potential return on investment, and the amount of risk involved. It is important to thoroughly research and evaluate these factors before making any investment decisions.
One way to get started in real estate investing is to start small and gradually build up your portfolio over time. This allows you to gain experience and learn the ropes before committing to larger investments, and this could be done by making real estate investments through "Fractional Real Estate Investing."
What is Fractional Real Estate Investing?
Fractional real estate investing refers to a type of investment in which an investor purchases a partial ownership stake in a property rather than the entire property. This can be an attractive option for individuals who want to invest in real estate but don't have sufficient resources to purchase a property outright.
There are several ways to invest in fractional real estate. One option is to invest in a property through a real estate crowdfunding platform, which allows investors to pool their money together to purchase a property. Another option is to invest in a real estate investment trust (REIT), which is a company that owns and operates a portfolio of properties and shares the profits with its investors.
How does this work?
For each property listed for investment, a private limited company, also known as a Special Purpose Vehicle (SPV), is created by the platform offering fractional real estate investing. This SPV pools in the funds equivalent to the property value from investors through the listing, and once done, it buys the property. This means the property registration happens between the seller and the SPV, while each individual investor becomes a shareholder in the SPV. The documents pertaining to the incorporation of the SPV, as well as the listed property, are provided to the investor during registration on the platform.
Additionally, to safeguard the interests of the investors, such platforms appoint a trustee that takes care of custodian, escrow, and trusteeship services.
Models of Fractional Real Estate Investing
There are several different models of fractional real estate investing, including:
Crowdfunding: This model allows investors to pool their resources and collectively purchase a property, with each investor owning a fraction of the property.
Property syndication: In this model, an investor can purchase a share in a real estate investment trust (REIT) or a limited partnership, which allows them to own a fraction of a property or a portfolio of properties.
Co-ownership: In this model, multiple individuals jointly own a property and share in the profits and expenses of the property.
Vacation home rentals: Some fractional real estate investment models allow investors to purchase a fraction of a vacation home, which is then rented out to vacationers when the investor is not using it.
What do investors earn?
Rental yield is offered to investors in the range of 8-12% annually, which is generally pre-determined and is paid on a monthly or quarterly basis.
Fractional Real Estate Investing vs. REITs
Don't be confused between the two. Fractional investing allows investors complete freedom to choose the type of property to invest in, whereas in REITs, investors have absolutely no say as it is decided by the company managing the funds. However, dividend income from REITs ensures regular income.
People who invest in publicly listed REITs have the option to sell their shares at any time. On the contrary, fractional ownership is a longer-term investment with a set holding duration, which is usually around 5 and 10 years. From the regulation point of view, REITs are regulated by SEBI, while for fractional investing, there are currently no such regulations. But since it is an emerging investment option, the regulator will soon develop some guidelines.
Pros of Fractional Real Estate Investing
One benefit of fractional real estate investing is that it allows investors to diversify their portfolio and spread their risk across multiple properties rather than putting all of their money into a single property. It also allows investors to invest in properties that may be out of their price range if they were to purchase the property outright.
Cons of Fractional Real Estate Investing
There are several potential risks to consider when investing in fractional real estate. For example, the value of the property may decline, the property may be damaged or require costly repairs, and the property may not generate the expected level of income. It is important for investors to carefully research the property and the investment vehicle before committing to a fractional real estate investment.
Who should invest?
Investors looking to diversify and invest in commercial real estate with a steady flow of income can consider investing in fractional real estate. Another important factor to consider investing in fractional real estate is that an investor can invest in commercial real estate with a minimum investment amount of ₹25 Lakhs, which may otherwise be very high.
Conclusion
Overall, fractional real estate investing can be a good option for investors who are looking to diversify their portfolio and gain exposure to the real estate market without committing to a full property investment. However, it is important to carefully consider the risks and rewards of any investment and to do thorough due diligence before making a decision.
Disclaimer: The views expressed in the blog are purely based on our research and personal opinion. Although we do not condone misinformation, we do not intend to be regarded as a source of advice or guarantee. Kindly consult an expert before making any decision based on the insights we have provided.
Related Posts
Stay up-to-date with the latest information.