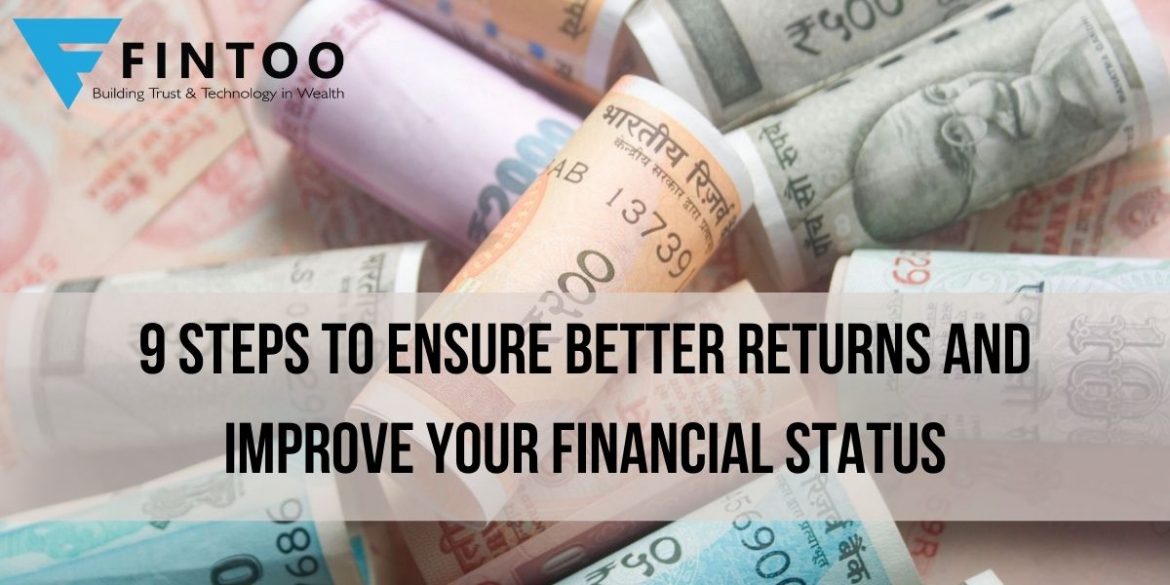 Managing finances in a proper manner is a must and you need to make a proper plan and budget to ensure that your investments give good returns after a while. With diversification, investors can enjoy good returns along with reducing the risk of losses.
So, what are those crucial things that you need to keep in mind to get better returns and have financial stability?
9 Steps To Boost Your Financial Status
1. Start Saving
The golden rule of getting good returns or improving your finance status is by saving. You can save a fixed amount every month, either through different schemes started by the government of India or your personal savings. Whatever be the mode, a fixed amount of regular saving goes a long way in accumulating a large amount every month.
2. Whatever You Save, Invest!
Investments are a great way to ensure that you get good returns after a specific time period. You can go for both short term as well as long term investments which can help you achieve financial stability. You can easily make investment in the form of stocks, equity shares, mutual funds, SIP etc. SIPs give good returns over a period of time. For ELSS, investments are locked in for a three period, however for other investments, there are different options.
3. Review Your Finances
Reviewing your Finances on a regular basis is very important. Whatever savings you have planned for every month or small investment you have decided for a monthly basis, you need to review them semi – annually and ensure that you are not missing out on anything. A regular review will help you rectify mistakes, if any.
4. Insurance Products & Tax Benefits
Each year when you pay a large amount of taxes to the government, you try to figure out methods that can help you save on these taxes.
A great way to do so is through the purchase of life insurance, medical policy, travel insurance, which help provide a significant amount of tax benefit and adequate cover at the same time.
5. Stock Market Investment
A great way to make some bucks rather than just keeping the money in your savings account. Stock markets are a good way to get returns on your investment, if you're a risk taking person. However, you need to do proper research and must have a thorough understanding of the stock market, before you take in the plunge. A good research will help you know in detail about when and which company stocks to buy and when to sell off, giving you good returns. Also when considering investment from the point of stock markets, you need to understand that there is some level of risk associated with these.
6. Retirement Planning
It is never too early to start. Retirement plans are a great way to invest some amount of money every month for your retired life. You can decide, as in 10% or 20% amount of your salary should be fixed and kept for pension. You can also opt for different kinds of pension related schemes started by the government through banks, post offices, etc.
7. Preparing A Budget
Making a budget in accordance with your monthly expenditure and savings is a very important aspect. Preparing a budget will help save unnecessary expenditure and help you save for more important things like children education, retirement, etc. Depending upon your monthly salary, you can prepare your monthly budget and make a point to adhere to it very strictly.
8. Seek Professional Help From A Financial Adviser
A financial adviser will be able to provide a clear picture of how savings can be done, which investment options suit your needs the best. Prioritising goals is an important task performed by the financial advisor with your inputs.
Read More :- 5 Essentials of a Financial Status Check List
9. Taking Calculated Risks
Some investments require risk taking appetite, such as stock markets, mutual funds, etc. However other investments such as fixed deposit, recurring deposits are safe from market volatility. You need to assess your risk taking ability and plan your investments accordingly. In case of any confusion, consulting a financial adviser is perhaps the best decision.

The above mentioned points can help you attain returns on the investments made by you and thus increase and improve your financial status in the longer run. Remember, discipline is the key to a good financial status.
A financial planning platform where you can plan all your goals, cash flows, expenses management, etc., which provides you advisory on the go. Unbiased and with uttermost data security, create your Financial Planning without any cost on: http://bit.ly/Robo-Fintoo
To Invest and keep regular track of your portfolio download: Fintoo App Android http://bit.ly/2TPeIgX / Fintoo App iOS http://apple.co/2Nt75LP'
Disclaimer: The views shared in blogs are based on personal opinion and does not endorse the company's views. Investment is a subject matter of solicitation and one should consult a Financial Adviser before making any investment using the app. Making an investment using the app is the sole decision of the investor and the company or any of its communication cannot be held responsible for it.
Related Posts
Stay up-to-date with the latest information.