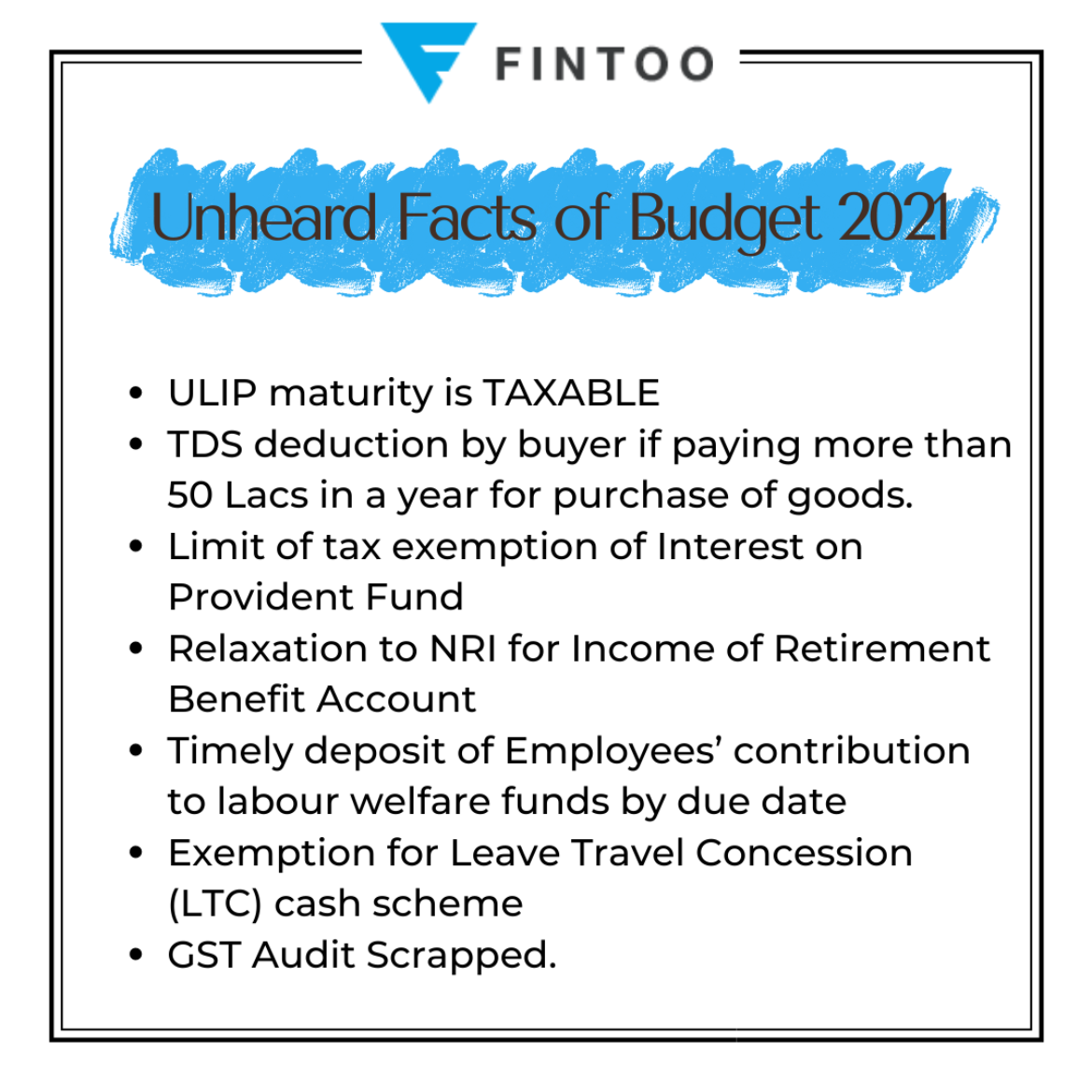 by
fintoo
February 1, 2021
Some of the facts which you don't know about Budget 21. Here is the list
1. ULIP maturity is TAXABLE. Budget 2021 has proposed not to provide tax exemption under section 10(10D) of Income Tax Act for maturity proceeds of the unit-linked insurance policies (Ulips) with annual premium above ₹2.5 lakh. The rules will apply for Ulips issued on or after 1 February 2021. According to Budget memorandum, "Under the existing provisions of the Income Tax Act, there is no cap on the amount of annual premium being paid by any person during the term of the policy. Instances have come to the notice where high net worth individuals are claiming exemption under this clause by investing in Ulips with a huge premium. Allowing such exemption in policy/policies with huge premium defeats the legislative intent of this clause."
Related Article: ULIPs with an annual premium above ₹2.5 lakh to be taxed.
2. TDS deduction by buyer if paying more than 50 Lacs in a year for purchase of Goods. Section 194Q of Income Tax. (1) Any person, being a buyer who is responsible for paying any sum to any resident (hereafter in this section referred to as the seller) for purchase of any goods of the value or aggregate of such value exceeding fifty lakh rupees in any previous year, shall, at the time of credit of such sum to the account of the seller or at the time of payment thereof by any mode, whichever is earlier, deduct an amount equal to 0.1 per cent. of such sum exceeding fifty lakh rupees as income-tax. Explanation.––For the purposes of this sub-section,
"buyer" means a person whose total sales, gross receipts or turnover from the business carried on by him exceed ten crore rupees during the financial year immediately preceding the financial year in which the purchase of goods is carried out, not being a person, as the Central Government may, by notification in the Official Gazette, specify for this purpose, subject to such conditions as may be specified therein.
3. Limit of tax exemption of Interest on Provident Fund: In order to rationalise tax exemption for the income earned by high income employees, it is proposed to restrict tax exemption for the interest income earn on the employee's contribution to various provident funds to the annual contribution of Rs 2.5 lakhs. This restriction shall be applicable only for the contribution made on or after 01/04/2021.
4. Relaxation to NRI for Income of Retirement Benefit Account: In order to remove the genuine hardship faced by the NRIs in respect of their income accrued on foreign retirement benefit account due to mismatch in taxation, it is proposed to notify rules for aligning the taxation of income arising on foreign retirement benefit account.
5. Timely deposit of Employees' contribution to labour welfare funds by Due Date: Delay in deposit of the contribution of employees towards various welfare funds by employers result in permanent loss of interest/income for the employees. In order to ensure timely deposit of employees' contribution to these funds by the employers, it is proposed to reiterate that that the late deposit of employees' contribution by the employer shall never be allowed as deduction to the employer.
6. Exemption for Leave Travel Concession (LTC) cash scheme: In order to provide relief to employees, it is proposed to provide tax exemption to the amount given to an employee in lieu of LTC subject to incurring of specified expenditure.
To Invest and keep regular track of your portfolio download: Fintoo App Android http://bit.ly/2TPeIgX / Fintoo App iOS http://apple.co/2Nt75LP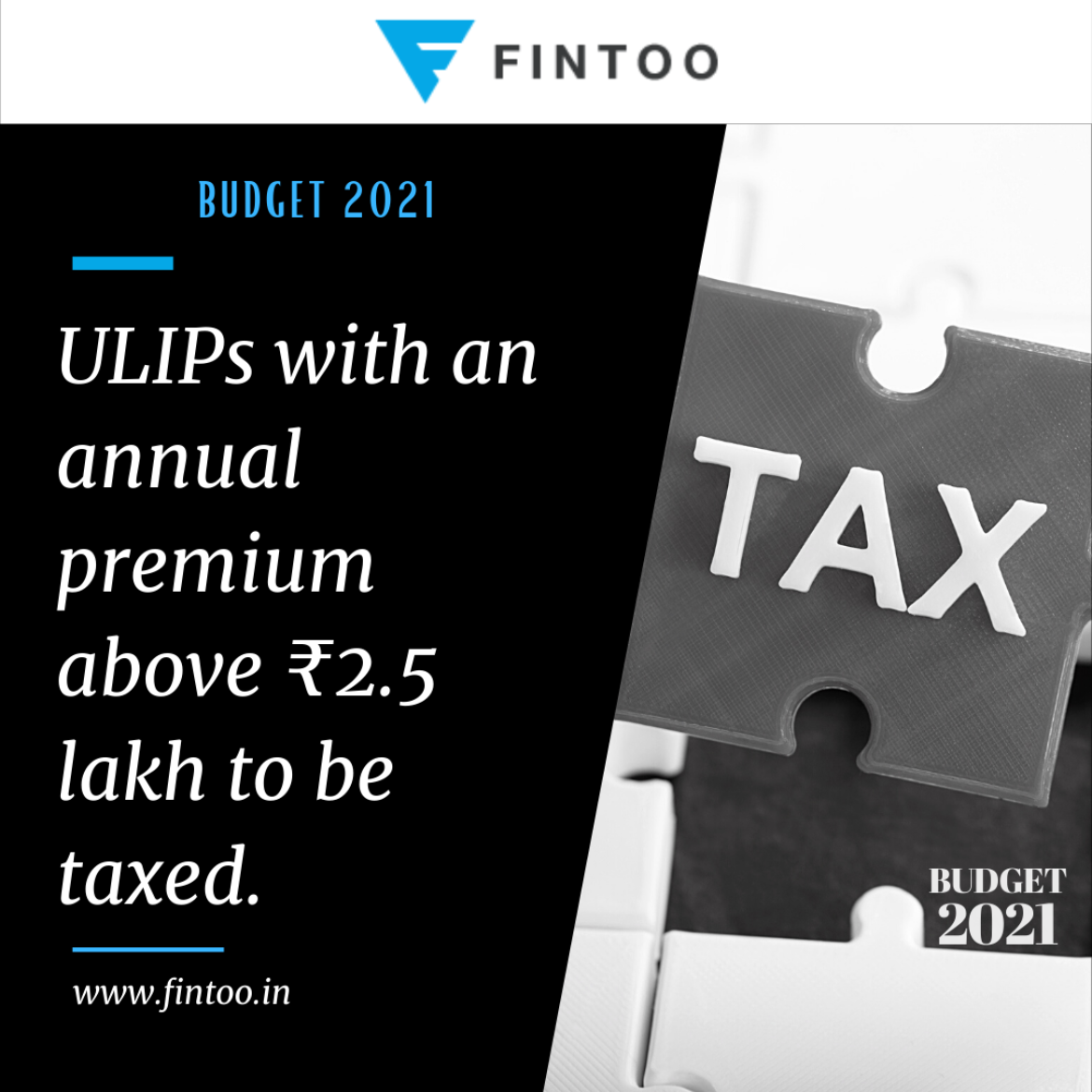 by
Nidhi Manchanda
February 1, 2021
Finance Minister in budget 2021 has made the maturity proceeds of the unit-linked insurance policies (Ulips) taxable. However, it will be taxable only if the annual premium is above ₹2.5 lakh. The rules will apply for Ulips issued on or after 1 February 2021. According to the Budget memorandum, "Under the existing provisions of the Income Tax Act, there is no cap on the amount of annual premium being paid by any person during the term of the policy. Instances have come to the notice where high net worth individuals are claiming exemption under this clause by investing in Ulips with a huge premium. Allowing such exemption in policy/policies with huge premium defeats the legislative intent of this clause."
Are you wondering what will be the tax rate?
Ulips will be taxed at 10%, above an annual exemption of ₹1 lakh, at par with equity mutual funds. It is an attempt to rationalize taxation of Ulips. The non-exempt Ulips shall be provided with the same concessional capital gains tax regime as available to the mutual fund to provide parity with equity mutual funds.
Currently, the entire amount received under a life insurance policy is exempt under section 10(10D). Section 10(10D) of the Income Tax Act exempts any amount received under a life insurance policy including Ulips, if the sum assured is more than 10 times the annual premium. This exemption includes death benefits, maturity benefits and accrued bonus. It means until now, there was no upper limit applicable to the claim against a life insurance policy.