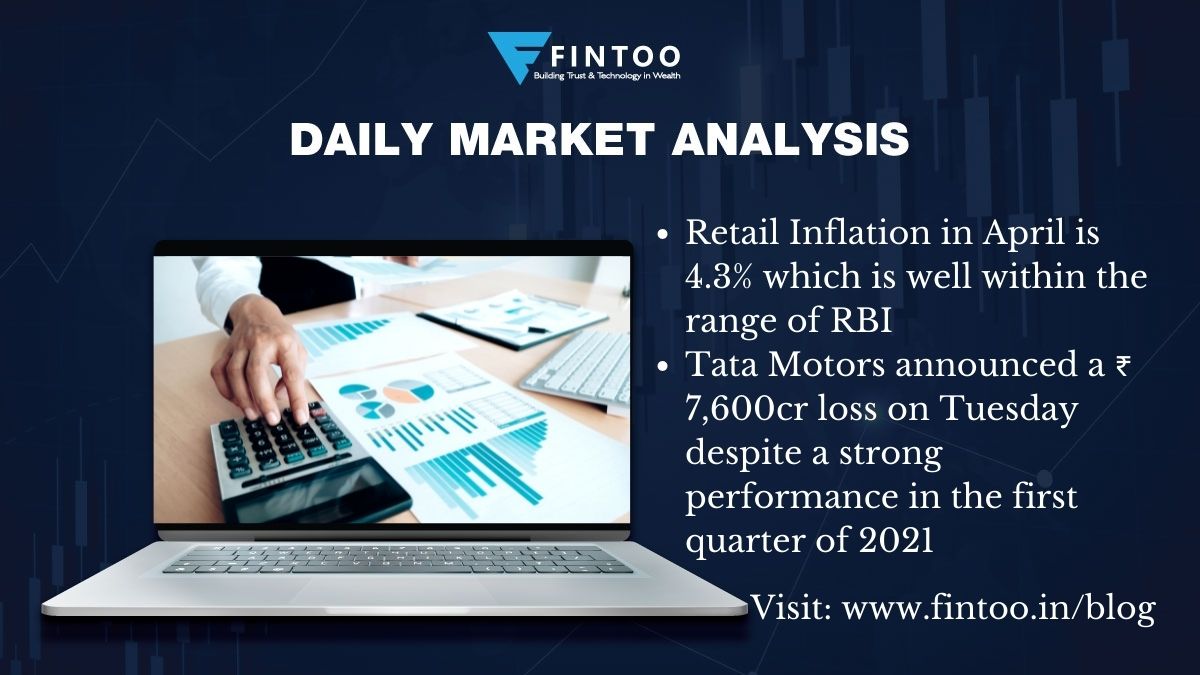 by
Mayuri Singh
May 19, 2021
Inflation and its impact on an overall economy
Retail Inflation in April is 4.3% which is well within the range of RBI. Inflation is measured by the CPI and the wholesale price index (WPI). The CPI measures changes in prices of essential commodities at the consumer level, while the WPI notes changes at the  producer level.
The commodities  considered for measuring the WPI are manufactured products (63.75% weightage), primary articles such as food (20.02%), and fuel and power (14.23%).
For the CPI, the commodities are food and products (45.86%), housing (10.07%), clothing (6.53%), and fuel among others. Inflation is indicative of the decreasing purchasing power of the country's currency and vice versa.
Inflation is indicative of decreasing purchase power of the country's currency and vise versa.
It is basically the cost of production which is passed on to the consumers.
In the Monetary Policy Committee meeting of February 2021, Government specified that for the next 5 years they will not be focusing on maintaining the inflation rate. There is a possibility in the near future for the inflation rate to go higher.
In increasing inflationary conditions, the RBI adopts a contractionary monetary policy. In case of a slow-down, it adopts an expansionary monetary policy, which leads to the increased money supply, lower interest rates, lower borrowing costs, and increasing aggregate demand thereby giving a boost to the economy.


RBI has increased Gsec buying in the past 2 weeks


The central bank of India net purchased Rs. 34,175 crore of sovereign papers between April 22 and May 4 from the secondary market to ensure lower borrowing cost in the second wave that would derail the economic recovery.
The usual efforts through Open market Operation and Government Security Acquisition Program is a corrective measure that the government has been taking to control the rise in bond yields and lower the borrowing cost. The Government principal money manager is said to have bought T bills and long-term papers in 7 tranches in the past two weeks.
Due to the following action, the bond yields have reduced to 0.03 basis points to 6.02%.


Tata Motors Posts $1 billion loss as Jaguar Costs hot bottom line


Tata Motors announced a ₹ 7,600 crore ($1 billion) loss on Tuesday despite a strong performance in the first quarter of 2021 as restructuring costs related to its British luxury car brand Jaguar Land Rover (JLR) hit the automaker's bottom line.
The company reported losses for three consecutive quarters last year, as the pandemic hammered demand in domestic and international markets.
The standalone business including joint operations reported profit at Rs 1,645.69 crore in Q4FY21 against a loss of Rs 4,871.05 crore in the year-ago quarter and clocked a massive 106 percent year-on-year growth in revenue at Rs 20,045.9 crore during the quarter, driven by strong passenger vehicle demand and recovery in commercial vehicle demand.
The commercial vehicle business consistently posted sequential quarter-on-quarter growth on the back of improved consumer sentiments, buoyancy in e-business, firming freight rates, and higher infrastructure demand including road construction and mining.
Also read: Best Tax Saving Instruments to Maximise Your Corpus – Fintoo Blog
WFH promotes tier 2 cities as talent hub and Unemployment in Rural India


Due to work from home policy tier, 2 cities like Kochi, Guwahati, Jaipur, Indore, and Mysore are said to have emerged as talent hubs.
According to Talent500, there has been a 30-40% increase in demand for workforce in tier-2 cities within tech teams across sectors.
Covid has made us all work remotely. In a post-pandemic world, remote won't just be the new normal, but instead, be a strategic advantage for companies as they build out their teams.
On the other hand, we see rural unemployment has nearly doubled in a week as lockdowns and surging covid infections in villages brought economic activity to a halt. Rural unemployment shot up to 14.34%. The MSMEs (micro, small and medium enterprises) are in bad shape, and the informal jobs market, as well as self-employment in rural India. The situation may get worsened over the next few weeks if we don't manage to tackle the pandemic in rural India.


Competition Commission of India (CCI) agreed to the proposal of acquisition of an additional 25% stake of Adani Krishnapatnam Port Ltd By Adani Port SEZ


Adani Port SEZ holds 75% shareholding; the proposed combination will lead to acquiring 100% shareholding and complete control.
In April, Adani Ports and Special Economic Zone had said it had acquired a 25 percent stake of Vishwa Samudra Holdings in Krishnapatnam Port for Rs 2,800 crore. Krishnapatnam Port, located on the east coast of India in the Nellore district of Andhra Pradesh, is an all-weather, deep water port with a multi-cargo facility with a current capacity of 64 million tonnes per annum.

12 Drugmakers and Healthcare companies are planning IPO in 2021


Covid-19 has increased investor demand for promising companies in sectors like Pharmaceuticals, healthcare, and related businesses that are beneficiaries of the pandemic.
In the past five years, only seven companies involved in the sector have hit the IPO
Companies like Glenmark Lifesciences, Supriya Lifesciences, Krsnaa Diagnostics, Krishna Institute of Medical Sciences KIMS, Tatva Chintan Pharma, Sigachi Industries Windlass Biotech have already filed their draft paper switch SEBI.
The four companies i.e Emcure Pharma, Wellness Forever, Vijaya Diagnostic, and Star Health Insurance have initiated the process for filing IPO.
It looks like there will be a massive change in the Indian Healthcare system because of covid -19 and demand for drugs, vaccines, diagnostic medical equipment, hospital, and other related services will increase over the period.
To Invest and keep regular track of your portfolio download: Fintoo App Android http://bit.ly/2TPeIgX / Fintoo App iOS http://apple.co/2Nt75LP
by
fintoo
February 23, 2021
The most feared and most awaited event of the year; The Budget. Every person, every industry waited patiently for the announcement from our respected Finance Minister Nirmala Sitharaman.
With COVID-19 pandemic on the backdrop, India was waiting for a "get well soon".
Let's see what the Budget 2021 brought forward for us – Decoding Budget 2021:
1. No changes in personal income tax
Budget 2021 did not alter the personal income tax structure which meant that the common man is not burdened with tax levy this time. However, we have tried to summarise a few pointers to understand the changes
2. No ITR filing for senior citizen above the age of 75 years
Budget 2021 dictates that Senior citizens above the age of 75 years need not file Income Tax returns henceforth. However, this exemption is valid only if the senior citizen has income from pension and interest.
Only snitch here is that the bank interest should have been received from the same bank where the pension gets deposited.
3. Prefilled Income Tax Returns
Ease of filing will be achieved as a result of Prefilled Income tax returns with the details of interest, dividend, capital gains etc. This is a welcome change since time will be saved and accuracy will be achieved.
Capital gains especially for trading in shares and mutual funds is a very cumbersome task. Prefilled details of capital gain will be a relief.
4. Dividend not required to be considered for determining the advance tax
The dividend has been made taxable only on the receipt or declaration of the same from the view of Advance Tax calculation.
Earlier the taxpayers would need to pay the interest due to underestimation of dividend income while calculating the advance tax. However, with the change in Budget 2021, the taxpayer need not consider dividend in advance tax calculation unless it is declared or paid. This will reduce the interest and penalty on advance tax payments of the taxpayers.
Related article: Reviewing Your Financial Plan? Keep This Checklist Handy
5. Taxability of Interest on Employees Provident Fund (EPF) contribution
Interest on EPF contribution in excess of Rs. 2.5 lakhs, however, will be taxed only if withdrawn in such year.
This move is expected to divert the investors away from EPF, so that the investors would prefer to move in the funds to more lucrative options.
6. Double TDS rate where the taxpayer does not file Income Tax Return (ITR)
Budget 2021 has prescribed TDS at double rates where the taxpayer does not file Income Tax return.
This will encourage and push the non filers to file their ITR, which will increase the coverage of Income Tax.
7. Deduction for interest exemption of Affordable Housing remains unchanged this year too
The deduction will be allowed till the year-end i.e. March 2022, on the Affordable Housing Scheme for Rs. 1.5 lakhs.
This was a specific benefit given by Budget 2019, however, FM has reconsidered extending the same to the year 2021 is a positive sign for especially migrant workers and the lower working class.
Related article : How to select a suitable Tax regime for Yourself?
8. ULIPs brought into the tax net
Budget 2021 has brought in ULIPs under taxability net, prescribing that the capital gains on ULIPs will be taxable if the yearly premium is more than Rs. 2.5 lakhs.
ULIPs were having a specific advantage over regular ELSS (Equity Linked Saving Schemes) Funds due to no restriction on premium payments. However, with this amendment, ULIPs are pretty much at par with Mutual Funds.
9. Revision of return preponed by 3 months
Henceforth the taxpayers would be required to file the revised / belated returns by December 31st of every assessment year.
10. Rush start to Startups
Budget 2021 has boosted up the way ahead for the startups by prescribing some booster doses for revival and growth.
11. Removal of condition of waiting period for conversion of One Person Company (OPC)
Budget 2021 has removed the waiting period of 2 years for converting the OPC into a public limited company or private limited company.
12. No Cap on paid-up capital and turnover
Budget 2021 has eliminated the restrictions with respect to paid-up capital and turnover.
13. Non-Resident Indians (NRI) can incorporate OPC in India
This amendment will bring in the most required capital inflow in India especially in start ups.
14. Emphasis on healthcare
COVID-19 was an alarming state of events in the year 2020, which has reaffirmed the need to improve healthcare and sanitization activity.
15. Increased spending to 137% on Healthcare facilities.
Prime Minister Atmanirbhar Swasth Bharat Yojana will have competitive healthcare facilities with this spending.
16. COVID-19 Vaccine
FM has assured that more vaccines will be available soon and an amount of Rs. 35000 crores would be spent on vaccine efforts.
17. Privatisation, Divestment and Foreign Direct Investment (FDI)
Budget 2021 hs been truly an example of a progressive budget since it has talked in lengths and details about Divestment, privatization and foreign direct investment in government companies and public sector units
18. The monetisation of assets of PSUs
FM has announced that assets of Railways, Airports etc will be monetised through National Asset Monetisation Plan.
19. Disinvestment of PSUs (Public Sector Units)
List of PSUs will be made which are targeted for disinvestment and strategic disinvestment will be carried out to garner the funds
20. Changes in the Insurance Act to attract FDI (Foreign Direct Investment)
Budget 2021 has raised the FDI limit to 74% which was 49% earlier. This will attract more international players into the Insurance field due to allowability f foreign ownership.
21. Acche din for Government schemes
Free Cooking gas
Application of Minimum Wages Act to all workers inclusive etc.
Decoding Budget 2021 in all can be looked like more of an ambitious budget which has paved the way for the much sluggish economy bearing the impact of COVID19 hit. However, there is too less for the common man in terms of tax impacts and exemptions, apart from health and wellbeing concerns.
For any assistance on Financial planning and Tax planning book your appointment now – Click here