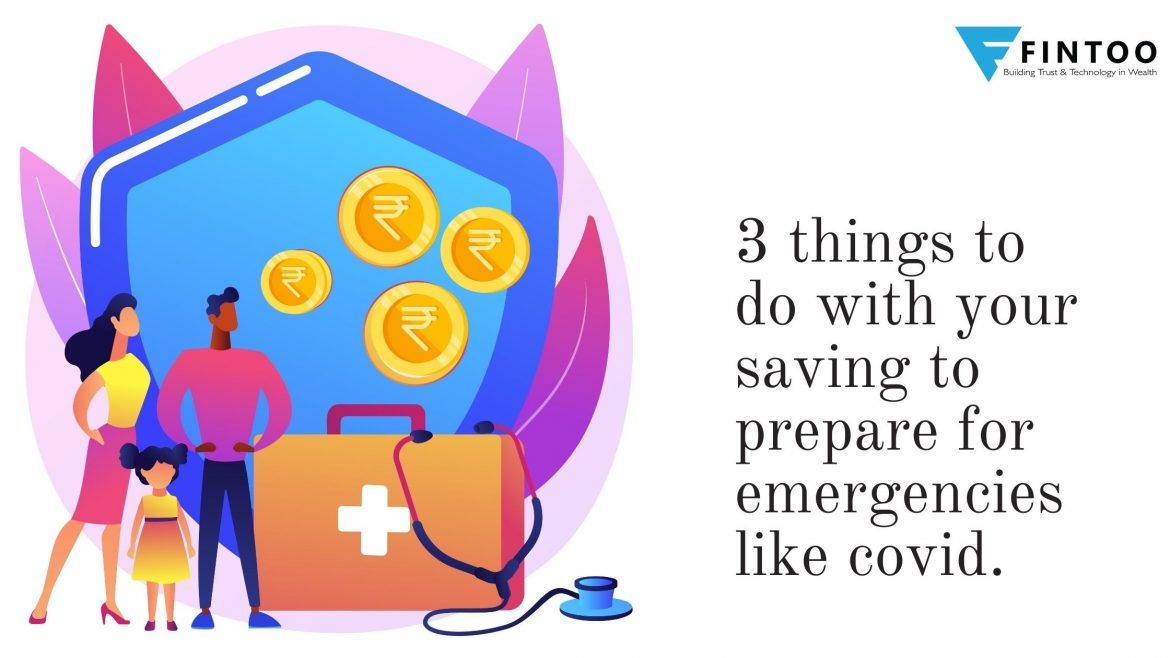 "It's better late than never" The pandemic has made us realize this, isn't it? Many people across the globe lost their jobs overnight due to a sudden economic slowdown. Many enterprises have faced an existential threat leaving people jobless. Whether billionaires, millionaires, rich or poor, no one has remained unaffected by this unexpected and unbelievable pandemic. Amongst all, the informal economy class a.k.a. the middle class along with the daily bread earning people have suffered the most.
As per a recent survey, 40% of the people had to access their emergency funds to support their families and survive through this pandemic. And as per a similar study, only 4 out of 10 people have an emergency fund that can last for more than 6 months. And as the effect of the pandemic lasted for almost more than one and a half years, what do you think the situation of the remaining 60% of people whose emergency funds didn't even last for 6 months would have been?
Can you imagine yourself in their place? Would you ever want to walk a mile in their shoes? Of course not, isn't it? So, if you wish to never get yourself in that situation, make sure that you create your emergency fund for such unpredictable situations.
An emergency fund is a fund that is kept aside from the regular income for emergencies. It can be right from losing your job and medical emergency to suffering a loss or an unexpected expense.
What is the amount of money you should save as an emergency fund?
As per the experts, one should keep a minimum of 3-6 months of income as an emergency fund.
So, now that we have understood the concept of an emergency fund and the need for maintaining it. Let us also understand the steps to create one:-
Step 1- Decide an amount
The first step towards creating an emergency fund is to decide an amount. For this, you need to analyze your current financial status. Begin with figuring out what your monthly expenses are, like rent, groceries, medical expenditure, and other utility services. Remember, saving too much and then using the same saved money to fulfil your needs should not be the case. Hence, whenever you decide your ideal saving amount, ensure that it is a balanced amount which is decided after carefully analysing your income and expenses. Once decided, you need to dedicatedly save it and not use it again to meet your regular expenses.
As said, "Your life changes as soon as you make a new congruent and committed decision." Consult a certified financial planner for your emergency fund creation as the planner will help you to create a well-researched, reliable and result-oriented plan. After you take the first step, the rest will follow and very soon you will be able to initiate the process of creating your emergency fund.
Step 2- Setting a goal
A goal is important to stay focused. You need to have a motive for it. Without a plan, you will always land up using the funds you save. Creating a plan and sticking to it is the only way you can achieve the goal. Every month you can set aside some amount to the fund. The cash that is accumulated over a while can be then locked as an emergency fund.
Automatic transfer works best in such cases. As soon as your monthly salary gets credited to your account, you can transfer the amount to your other savings account in order to ensure that you do not end up spending it. Moreover, you can also invest a part of it in liquid mutual funds to get better returns and accelerate the pace of building up your fund. In case you're self-employed then you can decide on a date and transfer accordingly. Also, it is suggested if you have a large sum of money accumulated you can also plan to reinvest the same. Make sure the invested money can be used and accessed during the time of emergency.
Step 3- Know When to use your Emergency Fund
The last step towards achieving the goal of having an emergency fund is to know the right time of when to use the money. You may be tempted to use the money for a vacation or buying new appliances, paying down payment for the new car, or any other expenses. Therefore it's of utmost importance to list down all the possible expenses that you will be associating with the emergency fund. Always remember that the point of creating a fund for emergencies is to prevent from taking debt and surviving uncertainties. Things that should ideally account for emergency funds are as follows:-
Unemployment- You may require emergency funds till you get another job. The reason for being unemployed could be recession, pandemic or even if the company is running into losses. Many people across the globe lost their jobs during the pandemic.
Medical expenses- A sudden need for medical expenses
Repair – The home needs to be repaired on a priority basis due to a natural disaster
Tax bills – what if you are due a tax bill that you are not aware of earlier
Must Read – How not knowing Emergency Funds makes you a Rookie
Should we pay the debts first or save funds for emergencies?
Many people are sceptical about whether we should pay the previous debts first or create an emergency fund. The debate on what approach needs to follow continues. Everyone's needs and financial capability differ from one to another. Some people work from hand to mouth. In case, if you have an existing debt that needs to be paid along with creating your emergency fund, make sure that you do both simultaneously and if you are planning to pay your debt in full, only pay it when you can maintain a substantial liquidity amount in your hand to manage your emergency expenses.
Creating an emergency fund and utilizing it at the right time will save you to borrow more funds in the future.
Everything begins small hence is the saving for an emergency fund. As said " A little effort makes a huge difference" This might be a little challenging as you will have to compromise on your needs but you will also appreciate yourself during the time of emergency. These funds will save you from getting impacted by the rainy days that might occur.
Always remember anybody that can save you from mishap is you yourself, so be prepared for everything. By following these 3 simple steps you will not only create a fund but also develop good financial habits. One needs to take it the same way as one considers his/her health. As said, " Money is to social existence what health is to the body".
Must Read – Emergency Fund – What it is and Where to invest?
A financial planning platform where you can plan all your goals, cash flows, expenses management, etc., which provides you advisory on the go. Unbiased and with uttermost data security, create your Financial Planning without any cost on: http://bit.ly/Robo-Fintoo
Disclaimer: The views shared in blogs are based on personal opinion and does not endorse the company's views. Investment is a subject matter of solicitation and one should consult a Financial Adviser before making any investment using the app. Making an investment using the app is the sole decision of the investor and the company or any of its communication cannot be held responsible for it.
Related Posts
Stay up-to-date with the latest information.